New Lifeline from Rumenco
2009-12-14
Rumenco has launched a 22.5kg version of its popular pre-lambing supplement Lifeline Lamb and Ewe. A new 100kg mechanical handling-only version is also available.
Lifeline should be introduced six weeks before lambing.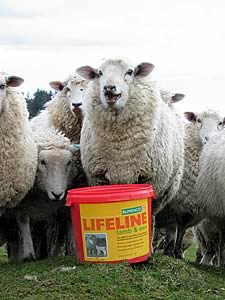 According to Rumenco technical manager David Thornton, the product is the only purpose formulated supplement that benefits the unborn lamb as well as the ewe. Feeding it also gives lambs a kickstart in life by boosting early vitality and promoting more rapid rumen development, the company claims.

"Lifeline boosts colostrum quality, improves ewe and lamb vitamin and mineral status, and promotes an easier lambing. Its value to the shepherd has been proven by independent trial work. For example, an SAC study has shown that feeding Lifeline pre-lambing can significantly increase immunoglobulin levels in the colostrum. Ewes fed showed a 25% increase in colostrum immunoglobulin content." he said.

"Immunoglobulin content is an important measure of colostrum quality that infers passive immunity to disease in young lambs. As all shepherds know, healthier lambs have increased feed intake and growth rate, show improved early vigour and general health, thrive and are less likely to suffer from conditions such as coccidiosis, hypothermia and mis-mothering. Losses due to predators may also be reduced when lambs are livelier if born outside."

Lifeline Lamb and Ewe should be introduced six weeks before lambing at grass or to housed ewes in addition to the standard feeding programme. The product is available from the agricultural merchant trade.

Shortage of Bicarb Exacerbating Acidosis Problems


Davidsons Animal Feeds Leads Trace Mineral Revolution


Estimating Silage Dry matter Content Can Be a Risky Business