New Versatile Claas Arion 400 Tractor Range
2009-10-01
CLAAS has introduced a new range of tractors, the ARION 400. This all new range is designed to meet the needs of livestock or arable farmers in the market for a compact sized, four-cylinder tractor of between 100hp to 130hp.
The Claas Arion 400 is compact and manoeuvrable
for work in yards and buildings.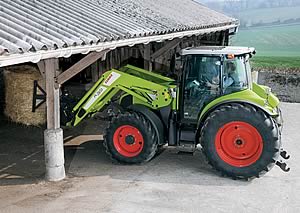 Consisting of a line up of three models covering the gap left in the CLAAS range that was previously served by the ARES 500 models, and means that with a total of 20 models with 51 variants, CLAAS is now able to offer one of the most extensive ranges of tractors with power outputs between 70hp and 270hp.
The ARION 400 is based on the same frame as the ARES 500, but utilises many features of the larger, high specification ARION 500 range. The result is a tractor that is spacious and comfortable, yet compact and manoeuvrable for work in yards and buildings, but with a lift capacity of 6.5 tonnes has the carrying capacity and power for field work.
With an overall length of just 4.44m, the ARION 400 has a tight turning circle of just 4.40m. To keep the overall height to a minimum, the ARION 400 is fitted with a new low profile, flat-roofed ATX version of the ARION 500 cab, which whilst being the most spacious of any tractor this size, gives the ARION 400 an overall height of just 2.74m when on 34 inch wheels. This compares to 2.71m for the AXOS and 2.95 on the ARION 500 range.
However, whilst these compact dimensions are ideal for yard work, this is not at the expense of its ability to handle heavy machinery in the field. With a wheelbase of 2.56m and a greater proportion of the tractor's weight over the front axle, this ensures plenty of grip and provides the ARION 400 with a maximum lift capacity of 6.5 tonnes, making it more than capable of handling heavy implements.
Three models – two variants
A total of three models are available, the ARION 410; ARION 420 and ARION 430, each of which can be specified in a competitively priced Standard version or a more highly specified CIS variant.

All three models are powered by 4.5 litre DPS Powertech common rail, turbocharged and intercooled engines with rated/maximum power outputs of 95/100hp; 105/110hp and 115/120hp respectively and maximum torque of 500Nm.
On both variants, the linkage is controlled using the well-proven, easy to use CLAAS TCE 15 linkage system, with additional control buttons located on the rear mudguard.
ARION 400 Standard versions
The Standard version of the ARION 400 is fitted with the well proven 16 forward/16 reverse QUADRISHIFT transmission.
Featuring four ranges within which are four splits that are selected at the press of a button on the side of the gear lever, this transmission is not only extremely easy to use, but in DLG tests has shown to have extremely low power losses, making it very efficient at transferring engine power to the wheels.
The tractor is also fitted with a 60 litre/minute open centre hydraulic system and two double-acting mechanical spool valves along with a 540/1000 rpm PTO. A second 40 litre/minute dedicated pump is used for the steering, clutches and hydraulic cooler.
Options include a higher capacity twin-pump 98 litre/minute open centre hydraulic system, which incorporates a diverter to provide greater flow for loader work or the spool valves, plus additional spool valves and an economy speed PTO.
ARION 400 CIS versions
The ARION 400 CIS is designed to meet the needs of those who are looking for a higher level of specification and automation.
On all three variants, in addition to the standard power boost, on CIS versions there is a further 10hp power boost at about 6.5kph in range C, giving them boosted maximum power outputs of 110hp; 120hp and 130hp.
Like on the Standard version, the ARION 400 CIS is fitted with the 16 forward/16 reverse QUADRISHIFT transmission, but with the option of QUADRACTIV powershift which provides either manual or automatic electro-hydraulic changes between the ranges and the four splits within each range. This combines the efficiency and low power loss of the QUADRACTIV transmission, with all the flexibility and convenience that would be found with a CVT transmission.
As standard, CIS versions feature the higher capacity 98 litres/minute hydraulic system and is fitted with three double-acting spool valves. As an option a new electro-hydraulic cross-control joystick is also available. Mounted on the armrest, the multi-function joystick contains both the gearshift controls but also makes it possible to control two hydraulic functions at once, making it ideal for loader work or when using a front/rear mower combination.
In addition, a 540/1000 and Eco speed PTO is fitted, with external controls on the rear mudguards. The PTO system also incorporates an automatic engagement/disengagement for headland turns.
The higher level of specification in the cab provides an extremely comfortable work environment. In addition to air-conditioning, the cab is fitted with an air seat and passenger seat, plus a refrigerated compartment. Incorporated into the dashboard is the CIS (CLAAS Information System) unit that provides the operator with a wide range of output, management and tractor settings, that are accessed using a rotary and Escape button.
Versatile
Whether it is an ARION 400 Standard being used in the yard of the higher specification CIS being used for arable work, this new addition to the CLAAS tractor range is a highly versatile model, that brings a new level of operator comfort and specification to this competitive sector of the market.

British National Ploughing Championships


Flexible Finance on Kuhn Fertiliser Spreaders


McCormick Dealer HJR Agri Wins Top Award