Natural England Sponsors Dairy Display at Northumberland County Show 2009-05-13
The Northumberland County Show and Natural England have teamed up to highlight the important role that Environmental Stewardship schemes play in England's dairy sector.
(from left to right) Thomas Harrison chairman of
Northumberland County Show, Sue Harrison Senior Project Manager Farm Advice:North East Region, Natural England
and brothers Paul and Richard (with Marleycote Fleur) of Northumbrian Pedigree Milk & Cream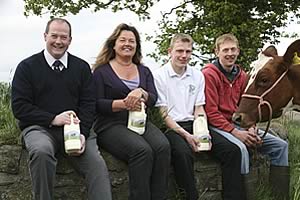 Natural England is sponsoring the milking parlour display at this year's Northumberland County Show which will demonstrate the modern milking process in full, from cow to bulk tank, ready for transportation to processing/pasteurising plant and a finished product display.
Nearly 40% of all England's dairy farms are now in Natural England's Entry Level Stewardship scheme, demonstrating the ways in which good environmental land management is being successfully integrated with intensively managed grassland systems.
Chairman of the Northumberland County Show, Thomas Harrison is delighted to welcome Natural England describing the sponsorship as a 'natural' partnership. 'This adds tremendous weight to the shows intention of demonstrating the links between farming and food production as well as being an important educational tool. Thanks to the support of Natural England we can show visitors the process of milking and demonstrate where we get our daily 'pint'."
Sue Harrison of Natural England's North East Regional Farm Advice Team said: "Natural England is proud to be the sponsor of this year's dairy exhibit at such a prestigious event as the Northumberland Show. A large number of England's dairy farmers are already in ES schemes, benefiting from the regular income that ES provides and delivering important benefits to the environment in the process. The Schemes are open to all and we would like to see all dairy farmers take a serious look at how ES can make a real difference to the economics and environmental performance of their businesses."
Entry Level Stewardship is the first tier of environmental stewardship schemes and provides farmers with a consistent stream of income - irrespective of commodity and output prices - while offering a number of environmental management options to choose from including; hedgerow management, ditch management, over wintered stubbles, protection of in-field trees and maintenance of woodland fencing. The scheme is simple to apply for and administer, offers regular payments, and can help make the best use of land alongside established businesses. In the North East there are already more than 1,800 Entry Level Stewardship agreements, covering over 360,000 hectares. The scheme aims to conserve wildlife and biodiversity, maintain landscapes, protect historical features and reduce diffuse pollution. Find out more at www.naturalengland.org.uk
Dairy cows from the competitive classes at the show will be milked in the milking parlour after they have been judged. Among these will be cows from the Marleycote herd of Dairy Shorthorns and Ayrshires owned by the Baynes family from Marley Cote Walls, Slaley. In 2005 the Baynes' began processing and bottling milk from their own cows under the Northumbrian Pedigree Milk & Cream brand. This is now distributed to over 80 customers in Northumberland, Co. Durham and Tyne & Wear.
Paul Baynes, who manages the Northumbrian Pedigree milk processing said "The dairy demonstration gives visitors to the show a unique opportunity to see cows being milked and learn more about the processes involved getting milk from a cow to the breakfast table." Taster samples of their milk will be available to the public during the show day.

EID Seminar at Welsh Sheep Event


Plans On Track for Another Jam-Packed Borderway Agri-Expo


Otley Show Bicentenary Entries Top 3,000