Swires Swoop Again to Bag New Craven Dairy Auction Record
2009-04-21
North Yorkshire father-and-son dairy farmers Malcolm and Robert Swires, of Haverah Park, Beckwithshaw, Harrogate, bagged a new record when exhibiting the champion for the fourth consecutive month – the first time this has been achieved – at the April Craven Dairy Auction at Skipton Auction Mart. (Mon, Apr 20)
Show ring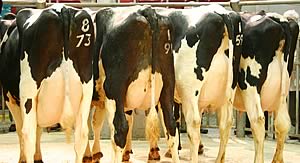 It was the first-prize newly calven cow from the Swires' prolific Whinhill Holstein Friesian commercial herd that landed the fourth title in succession. A daughter of the Semex sire, Shoremar James, the April victor, which calved 14 days before the show and was giving 33 litres, was knocked down for £2,150 to show judge David Hancock, of Sandbach, Cheshire,

For good measure, the Swires also achieved the top price in show with their second prize newly calven cow, sold to Geoff Blezzard, Hothersall Hall, Ribchester, for £2,390.

First and second prizes in the newly calven heifer class fell to Brian Moorhouse, of Hesper Farm, Bell Busk, who has been Craven Dairy Auction champion on several occasions.

His home-bred class winner – the sire is now standing with Bill Walmsley at Ripley, Harrogate - was chosen as reserve champion and, giving 24 litres, sold for £2,000 to Wick Williams, Nantwich, Cheshire. The same price was also achieved for Brian's second in class, which joined Aubrey Greenhalgh, Preston.

The fixture, again sponsored by BOCM Pauls and Farmers & Mercantile Insurance, attracted one of the highest entries to date, with 84 dairy cattle forward, nine of which sold for over £2,000 and a further 11 making £1,700 or more.

There was also a strong entry of 29 in-calf cattle, which traded well, selling to a top of £1,780 - again to Aubrey Greenhalgh - for an entry from Richard Wood, Crossroads, Keighley, part of the first consignment of a herd dispersal sale.

Newly calven heifers, first quality, averaged £1,806, bettered marginally by newly calven first quality cows, which averaged £1,807. Second quality newly calven cows sold to £1,320 (av £1,115), in-calf cows to £1,780 (£1,058), in-calf heifers to £1,280 (£949) and maiden heifers to £800 (£560).

Skipton Auction Mart's farmstock sales manager and auctioneer Ted Ogden said: "This proved to be one of the most successful Craven Dairy Auctions of late in terms in numbers, quality and trading levels, also attracting several new exhibitors and purchasers.

"Offering both newly calven and in-calf commercial and pedigree cattle to suit all tastes and pockets, our monthly dairy fixtures continue to grow in popularity among farmers both local and from further afield."

Ahead of the May Craven Dairy Auction on May 18, a dispersal sale of 45 Holstein Friesian commercial dairy cattle on behalf of L & JF Akrigg, Oakworth, Keighley, together with the second part of Richard Wood's in-calf cattle dispersal, will take place at Skipton on Monday, May 11, 11.30am.

Cecil Top of the Class at Skipton Ewes with Lambs Fixture


Skipton Gears Up for 2009 Northern Limousin Extravaganza


Border Raiders Land Spoils at Skipton Prime Shows