Buoyant Trade Expected for Borderway Beef Month
2009-04-28
A buoyant market for prime beef and store cattle is expected to be reflected in a strong trade for pedigree beef bulls and females during the 2009 Borderway May Pedigree Beef Month.
The Borderway February show and sale of Limousins brought a record average for bulls.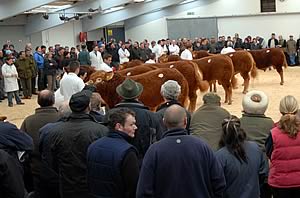 A total entry of nearly 1,200 bulls and females is an increase of nearly 190 animals, a boost of 18 per cent, on last year's May sales with the British Blue having the biggest rise in numbers on the year.
Prices in absolute terms for prime cattle have been at their highest since pre-BSE days of 1996, greatly boosting producer confidence in the market, although with inflation, these prices in real terms are less than two decades ago.
"The beef market generally is as good as it was in 1995 with buoyant prices for prime, store and breeding cattle which we expect will be reflected in the trade for pedigree cattle during May," said Harrison & Hetherington pedigree auctioneer David Thomlinson.
"With such a large entry of bulls at Borderway there will be animals to suit all pockets. Probably up to 90 per cent of the bulls sold will be to producers running suckler herds, many of whom are prepared to make big investments in their herd sires," he added.
"Because beef is at such a high value in the market and bulls are worth so much more for meat, this has also encouraged pedigree breeders to be more selective in what they are entering in pedigree society sales.
"At the sales in February, quality bulls were drawing the leading prices and we expect that to be the case in May."
Harrison & Hetherington pedigree sales and marketing manager Heather Pritchard who co-ordinates all the entries, confirmed this.
"The quality of pedigree stock has improved over recent years and breeders across all sectors are more aware of the buyers market and what is required to produce quality finishing and store cattle," she said.
"As a nation of livestock producers and marketers we must be confident and always be ahead of the opportunities for the home and export market," she added.
The first sale for Simmentals on Friday April 24 kicked off the beef month.
The following week sees an increased entry of Limousins to that of 2008, with 54 females and a sale of semen on Friday May 1 followed by 293 bulls on Saturday May 2.
The early sale saw a new breed record sale average reached with 131 bulls levelling at just short of £5,700.
The third week is for the Charolais and Blonde breeds on Friday 8 and Saturday May 9.
There are 250 Charolais catalogued, the majority of which are bulls. The Charolais' continued importance as a terminal sire was reflected in Borderway's recent two day suckled calf show and sale where the breed was well represented with Charolais crosses with a heifer selling up to £2,000.
There are nearly 40 cattle entered for the Blonde sale and at the early sale in March, the demand was positive with only two bulls not finding new homes.
The British Blue show and sale on Friday 15 and Saturday May 16 is the breed which has seen the biggest increase in numbers since 2008.
With a catalogued entry of 316 bulls and females, which is 100 more cattle than 2008, it is a breed which is gaining momentum as last year the overall average for bulls was £5,302 a staggering rise of £1,128 on the previous year.
During the last week of pedigree sales culminates with the pedigree beef day on Friday May 22 which includes Aberdeen Angus, Beef Shorthorn, South Devon and Hereford.
There is also a section for Parthenaise and Bazadaise cattle.
"The traditional breeds section has seen a steady increase in numbers over the last two to three years and with the popularity for the traditional breeds there is no reason why this area will not benefit from the present price trading," said Heather Pritchard.
"This day also sees the largest sale in the country of commercial suckler cows with calves and bulling heifers, when the market is a-buzz with the auctioneers' chant and farmers' chatter," she added.

Charolais Sell to 3,900gns in Brecon


Clougher Enoch Leads Aberdeen-Angus Trade at Dungannon


NBA Rejects Defra CRS Proposals