Trimble Introduces New GPS Receivers for Agriculture
22/01/09
Trimble has introduced two new Global Positioning System (GPS) receivers for agriculture.
Trimble® AgGPS® 262 receiver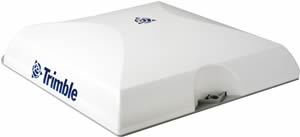 The new Trimble® AgGPS® 262 receiver is a low profile, combined GPS receiver and antenna, offering a choice of accuracy levels depending on operations. The Trimble AgGPS 162 receiver serves as a low-cost, all-weather, Differential GPS (DGPS) smart antenna when less demanding applications are needed.
Both receivers feature Transcend™ technology, a proprietary Trimble positioning capability that provides users with high accuracy, flexible solutions for the most challenging agriculture applications and environments. Transcend features the latest generation of Global Navigation Satellite System (GNSS) chipsets and processors. This proven technology is shared across multiple Trimble solutions - from current Trimble lightbars and GNSS receivers to the new FmX™ integrated display.
Both receivers also feature OnPath® filter technology to reduce drift and improve accuracy, even in the absence of Satellite-Based Augmentation Service (SBAS) corrections.
The AgGPS 262 receiver, intended as a replacement to the Trimble AgGPS 252 receiver, does not require new cabling and configuration, saving farmers installation time and money. It is a dual frequency L1/L2/L-band receiver, which provides more channels, better signal handling and more accuracy options.
Options on the 262 receiver include sub-inch Real Time Kinematic (RTK), 4-inch OmniSTAR HP, 6-8 inch pass-to-pass OmniSTAR VBS or 6-8 inch pass-to-pass SBAS corrections, including the U.S. Wide Area Augmentation System (WAAS), European Geostationary Overlay Service (EGNOS) and Japan's Multi-functional Satellite Augmentation System (MSAS). The receiver's accuracy options can be purchased separately and easily upgraded to suit a variety of row crop operations.
Trimble AgGPS 162 receiver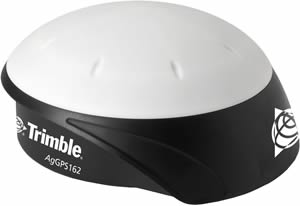 The Trimble AgGPS 162 receiver provides DGPS information to precision agriculture equipment that accepts NMEA data. Radar speed output allows users to control their variable rate controllers without additional speed indicators. The rugged housing and SBAS accuracy make the 162 receiver a suitable and economical option for a wide range of applications. It is designed for yield monitoring or field mapping and is Autopilot™ system compatible. The 162 receiver is a combined antenna and GPS L1 receiver capable of SBAS corrections.
"Our receiver technology is the core of our business," said Erik Arvesen, Trimble's general manager of Agriculture. "A common core receiver technology enables us to develop a single platform so we can focus on developing value-added solutions that increase farmer's efficiency and productivity."
The Trimble proprietary RTK engine enables users to accurately farm with +/- 1 inch accuracy at an 8-mile range. Radar speed output allows users to control variable rate drivers without additional speed indicators, again saving farmers money by providing integrated components. The AgGPS 262 receiver starts at US$2,995 MSRP. The AgGPS 162 receiver is US$995 MSRP. Both receivers are available now from Trimble resellers. For more information, including the location of your nearest Trimble reseller, call 1-800-865-7438 or visit: www.trimble.com/agriculure.

Trimble Introduces a Variable Rate Application Option for EZ-Guide 500


Trimble Introduces New GNSS Package for Precision Agriculture


Trimble Announces More Autopilot and EZ-Steer Platforms