07/04/08
Volac International has acquired the Golden Maverick milk replacer business from the Irish based Kerry Group with immediate effect.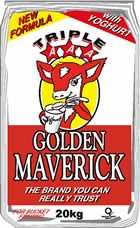 The acquisition of the Golden Maverick business by Volac continues the company's momentum for growth as a long term leader in the dairy nutrition market. Volac's strategy has already delivered a doubling in turnover over the past three years which has been achieved through investment in production capacity, product development and new markets.

The agreement includes the Golden Maverick brand portfolio, Ireland's leading range of animal milk replacers with an annual turnover in excess of €10 million.

"Acquiring Golden Maverick is a natural fit with Volac International's young animal nutrition business, and it has provided us with an opportunity to strengthen our position in Britain and Ireland as leader in the specialist areas of animal nutrition, feed ingredients and feeding systems," says Volac International's David Neville. "The arrangement will also enable us to support the Golden Maverick business with a complete range of labour saving feeding equipment essential to the modern dairy farmer."

The Kerry Group commented that it 'was reassured that Volac will continue to support and develop the Golden Maverick business. It believes that this rationalisation is in line with the Volac core business and in the interest of existing customers who will benefit from Volac's continued investment'.

Production will continue at the Kerry plant until June, after which it will be transferred to Volac International's sites.

Forage Maize for Viable Large Scale Cattle Finishing


Red Mites Potential Source of Salmonella Transmission


New Feeds Developed to 'Max' on Grass But Not on Cost