11/12/07

Back to British, back to breeding, back to making money is the theme of the British Cattle Conference from 21st to 23rd January 2008, at Hawkestone Park, near Shrewsbury.



Shorthorn Cattle - is it time for a revival of British native breeds?
© www.jennifermackenzie.co.uk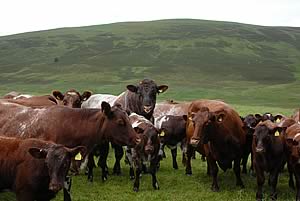 Waitrose Agriculture Manager, Duncan Sinclair, will open the debate by asking - is it time for a revival of British native breeds in developing sustainable beef systems for the future, against a background of high feed prices?
The role of native dairy breeds will also go under the spotlight with the Ayrshire view coming from Duncan Hunter, a dairy farmers based in Berkhampsted, Herts, and a Jersey view, directly from the island with David Hambrook, Assistant CEO of the Royal Jersey Agricultural and Horticultural Society as the speaker.
New features of the conference this year are formal debates on two motions airing topical cattle breeding issues.
The first is that this club believes we should breed beef composites, chaired by MLC's Beef Technical Manager, Dr Duncan Pullar; and secondly, that this club believes we should breed a dual function dairy cow, chaired by Andrew Taylor, an independent dairy veterinary consultant.
One of the many attractions of the conference is the opportunity for farmers and scientists to discuss the latest breeding technology. This year, a strong line-up of scientists is led by Chris Warkup, Director of the Genesis Faraday project, looking at making money using genetic markers, with a parallel paper from the Netherlands-based Dr Roel Veerkamp on profit from DNA.
Another topical issue for livestock farmers is the reorganisation of the levy boards under the umbrella of the new Agriculture and Horticulture Development Board.
Two main board directors, John Cross, chairman of the English Beef and Lamb Executive, and Tim Bennett, chairman of Dairy Co UK, will be joined by Farmers' Guardian Editor, Liz Falkingham on an 'Any Questions' panel following the annual dinner on 22nd January.
The busy two-day conference programme includes eighteen papers from leading cattle breeders, scientists and industry experts, plus pedigree breed society meetings and a livestock and genetics exports workshop. Further details and booking forms can be obtained from Lesley Lewin, Secretary, British Cattle Breeders' Club - Tel: 01409 241579 - E mail: lesley.lewin@cattlebreeders.org.uk - or can be viewed on the web at www.cattlebreeders.org.uk

Cumbrian Beef Farmer Wins Prestigious Award with Most Improved Herd


Solid Trade for Carlisle Charolais


Pioneer Gold for Quality Beef and Lamb