Top Efficiency Cows Highlighted in Dairy Awards
15/10/07
Cattle breeding company Alta and dairy management company NMR have announced the winners of their new production and efficiency awards.
Sion Roberts (L) receives rosebowl for first place from Jonathan Davies, NMR (R) and George Collins, Alta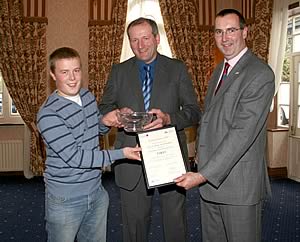 These awards use NMR's Lifetime Daily Yield (LDY) data to identify herds and cows that are achieving their milk production potential efficiently across a number of lactations. LDY divides total milk by cow age, in days, and will therefore be higher in herds where good production is combined with good fertility and longevity.

The competition identified the top 5% of herds nationally for LDY. Each herd was evaluated using InterHerd and cows were ranked against a herd average of 100% for milk, fat and protein production.

With the biggest deviation from the 100% herd average at 184%, Sion Roberts' Holstein cow number 69 took the prize for the most efficient milk producer. From Cerrigeinwen on Anglesey, this cow is also well above her 240-cow herd mates for protein production and ranks second in the national protein awards.

In second place for efficient milk production is the Druid Lodge Partnership's cow Druid Delta Peach. Based at Stonehenge, Wiltshire, Peach is one of 668 Holsteins in a mixed herd with 199 Ayrshires. This cow is also the highest ranking protein producer in her herd – 169% above the herd average – putting her in first place nationally.

In third place for efficient milk production is Northampton Fairly 11 from the Moulton College herd in Northamptonshire.

In the efficient fat production rankings, Gavin Weaver's cow Perrinpit Marconi Dot comes out top and is 195% above the herd average. From Cricklade, Wiltshire, this cow is one of 152 Holsteins in the herd managed by herdswoman Anne Baker.

Another cow from Sion Roberts' herd, number 157, is second in the efficient fat production rankings and in third place is Einion Owen's cow number 173 from Llanfaethlu, Holyhead.

Third in the protein rankings is Chris May's cow Hazelden Integrity Beauty from Wiltshire.

"This competition has identified herds with a high average LDY then highlighted cows that are the best milk, fat and protein producers within these herds," says Alta's Craig Watson. "Producers can use this information in making breeding decisions, selecting the most suitable cows for milk, fat or protein depending on their milk contract."

A second Alta/NMR award was made to the top cow for LDY. This went to Moet Sunny Flirt from the Moet herd, based at Reaseheath, in Cheshire. With eight lactations under her belt, Sunny Flirt has produced 163,106kg of milk and has a LDY of 33.4kg a day.

Just behind the winner is Copperhurst Rock Seagull from Wilfred Greenwood's herd, based in Pilsworth, Lancashire. Seagull has achieved a LDY of 33.1kg a day in three completed lactations. In third place is Jim and Grace Thornley's Granchester Prelude Heather 38 from Kirkham, Lancashire, with a LDY of 33kg per day.

"Many producers are breeding and managing cows for efficiency and longevity," says NMR's Jonathan Davies. "LDY is one of the best tools for highlighting herds and cows already achieving good results.

"And if a standard milk price is used, a financial value can be put on her daily or lifetime production. This gives the competition a very practical and financial meaning.
Cows that are not producing milk efficiently are unlikely to be profitable. Today's herds need consistent cows that can maintain this efficiency across a number of lactations and this will be reflected in their LDY," he adds.
TOP 5% LDY HERDS – Section winners
| | |
| --- | --- |
| Efficient milk production | |
| Owner | cow name |
| 1st T D & N ROBERTS | 69 |
| 2nd DRUIDS LODGE PARTNERSHIP | DRUIDS DELTA PEACH |
| 3rd MOULTON COLLEGE | NORTHAMPTON FAIRY 11 |
| | |
| Efficient fat production | |
| Owner | Cow name |
| 1st GAVIN WEAVER | PERRINPIT MARCONI DOT |
| 2nd T D & N ROBERTS | 157 |
| 3rd MR E R OWEN | 173 |
| | |
| Efficient protein production | |
| Owner | Cow name |
| 1st DRUIDS LODGE PARTNERSHIP | DRUIDS DELTA PEACH |
| 2nd T D & N ROBERTS | 69 |
| 3rd C D MAY | HAZELDEN INTEGRITY BEAUTY |
Top LDY Cows nationally
| | | | |
| --- | --- | --- | --- |
| | Cow | LDY (kg/day) | Owner |
| 1st | Moet Sunny Flirt | 33.4 | Moet Nucleus Herd, Reaseheath, Cheshire |
| 2nd | Copperhurst Rock Seagull | 33.1 | Wilf Greenwood, Pilsworth, Lancs |
| 3rd | Grantchester Prelude Heather | 33.0 | Jim Thornley, Kirkham, Lancs |

Westminster Dairy Group Chair Welcomes Milk Merger Talks


1st Roumare Calf Registered In UK


The Case for Jerseys Becomes Stronger