22/02/07

32,000gns top; 199 lots sold; 85% clearance; £1.2m gross

The day's leader at 32,000gns was Solitude Attaboy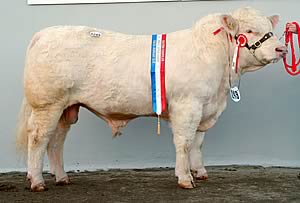 Solid demand for quality Charolais bulls from the profit fuelled commercial sector underpinned a flying trade at the breed society's official sale in Perth, on Wednesday 21 February. Bidding peaked at 32,000gns, 17 lots made five figure sums and a new UK all beef breeds average of £5,426.38 was established for 199 lots traded. That figure represented the highest number of bulls of any breed coming under the hammer sold during the centre's spring multi-breed sales and an 85% clearance. The event which also included 39 females sold, grossed £1.2m, a record for any breed society at the Huntingtower, Perth centre.
"The event was a true reflection of commercial market place trends which have clearly emerged under the new payment regime; Charolais is demonstrating that growth is king and is leaving the most profitable cattle for all beef producers," British Charolais Cattle Society's David Benson commented. "Suckler producers, who are paid on a kilo basis, are becoming increasingly aware of the benefits of Charolais crosses achieving more efficiently that additional weight over all other breeds. Furthermore, beef finishers are prepared to pay a premium in the ring for Charolais cross suckled calves which are finding an unprecedented demand in the sale ring, and those better returns are helping to offset dwindling payments in the run up to 2012."
The day's leader at 32,000gns was Solitude Attaboy, a 17 month old within the breed's top10% with a Beef Value of CH31, and a 400 day weight of 748kgs. Just 24 hours earlier he had been placed junior and overall supreme champion by judge, Cyril Millar, of Coleraine, Northern Ireland who described Attaboy as 'a bull with that something extra.' "He has great stature, length and presence, with potential to further develop his tremendous loin and hind quarter muscling," said Mr Millar after his five hour judging stint. Bred by John McMordie, Ballygowan, Northern Ireland and led out by his son, William, Attaboy was by the 14,000gns Allanfauld Superscot and out of Solitude Una, claimed to be the best heifer ever bred since the eight cow herd was established in 1999.
Attaboy is scheduled to work across three herds with a total of 160 pedigree cows after being secured in a three way bid between father and son team, Drew and Bob Adam, Newhouse, Glamis and neighbours Adrian Ivory, Cardean and Bill Bruce, Balmyle of Meigle, Perthshire.
"Attaboy was the best bull entered for sale and we were determined to take him home between us," said Mr Ivory. "He is very natural. He has length and shape, is clean through the middle and should leave the type of calves that are in demand."
For Attaboy's breeders his success came as a welcome surprise. "It's a fairytale in the making," said John McMordie. "This is a first time venture bringing Charolais to Perth. We were testing the water, so we've found it's quite unbelievable to not only win the championship, but also to achieve the highest price." The McMordie's wound up their highly successful day when they offered their second and only other entry, Solitude Amazing CH25 for 8,000gns in a two way split to the Massie family, Neil and his son, Graeme, of Dinnet, Aboyne and Michael of Auchnagatt, Ellon. A Doonally New son, he was out of homebred cow sired by Brampton Embark.
The Adams more than recouped their spend with their two best entries, both by Blelack Rustic. Newhouse Ambassador CH27, an 18 month old out of a homebred cow by Silver Joss, was knocked down sold for 9,000gns to Aucheneck Estates, Killearn, Glasgow. Their second entry, the event's reserve junior champion, was the 17 month old Newhouse Agadoo CH24 whose dam went back to the 28,000gns Perth champion, Brampton Nacador. He commanded 8,500gns from Jim Neil, Castle Douglas,
The day's second highest call of 30,000gns went to the reserve intermediate champion, Maerdy Andes CH23, a 20 month old by Fairway Soprano and out of the homebred Maerdy Nosda, a Maerdy Impeccable daughter. The buyer was Ian Thomson of the Airdlin Partnership who secured him to run with his 50 cow herd based at Ythanbank, Ellon. "This bull has scale and shape, and he was one I was prepared to pay for," he said. Andes was bred and exhibited by Flintshire vet, Esmor Evans, of Mold who enjoyed one of his most successful days in nearing 30 years of attending Perth.
The previous day, a draft of 20 heifers from his 250 cow Maerdy herd sold for an average nudging on £2,000, while a string of 22 bulls levelled at £6,000. That figure included the event's third highest price of 26,000gns for Maerdy Amontillado CH27, a 16 month old youngster noted for his length and width across the loin, and among the 'best ever' bred at Maerdy. Amontillado was by Maerdy Padirac, who also sired Maerdy Abraham, the two year old who was shipped to France last week in a private deal that marked the first Charolais export to the breed's native country in 20 years.
Amontillado went to join Wilson and Geradine Strachan's 25 cow Balmaud herd based at King Edward, Banff. "We liked his sheer power, style and potential to grow," commented herdsman, Andrew Reid. "We were also seeking to introduce some new genetics to help breed our own replacements and double the herd size."
The next highest entry from Maerdy at 9,500gns was Maerdy Alcoran, a 20 month old by the 16,000gns Maerdy Naser and out a homebred cow by Maerdy Poultice. He returned to north Wales with NW Evans, Tynant, Corwen.
The intermediate championship was awarded to Fury Action CH23, a September 2005 born Domino son and out of a Lanesboro bred cow who goes back to the noted Brampton Fourstar. Action, who had already amassed a collection of awards on the Northern Ireland show circuit including junior title at the NI Charolais Show, Fintona was bred and exhibited by Pat Hackett, who runs a seven cow herd at Clogher, County Tyronne. He commanded a bid of 18,000gns from neighbouring farmers, Declan and Fergal McKenna, Clogher who are renowned for producing strings of quality suckled calves. Among their recent successes was a Charolais cross heifer with selling for an all-Ireland commercial record of £6,800.
Next to go at 16,000gns was the senior and overall reserve champion, Ravensworth Alder CH34 from Snowdon Oates, Ouston Farms, Chester-le-Street. The buyer was Mortimers Farm, Eastleigh, Hampshire who had identified Alder's 'power and tremendous loin to introduce some further strength' to the 40 cow Mortimers herd. A rising two year old Maerdy Shane son and out of a homebred cow from Ravensworth's 50 cow herd going back to Lochnagar Imperator, Alder achieved both the highest ever accolade and the highest ever price for the Oates family who were among the founder members of the breed society. Their full support to Charolais continues having recently dispersed two other Continental herds, explained farm manager, Bill Wannop, "Charolais is now the most sought after breed and we've decided to give it our full attention."
A bid of 15,000gns secured Coolnaslee Admiral CH31, a first class prize winner for Alec Cant, Arbroath, Angus. Bred by Gilbert Crawford, Maghera, this 20 month old Allanfauld Superscot son was out of Oscar Oakes, whose previous best bull sold for 10,000gns in Perth 2005. Oakes was among the 17 strong Oscar herd purchased from Kevin McOscar, bolstering the Coolnaslee herd to 70 cows, currently the largest in NI.
Two more 20 month old Superscot sons from Coolnaslee were in the money. Coolnaslee Adversary CH32, who was out of a Blelack Jedburgh sired dam made 12,000gns in the day's second two way split to the Massie family, Neil and Graeme, of Dinnet, and Michael of Auchnagatt. Coolnaslee Austin CH27, who went back to Brampton Justwilliam was bid to 8,000gns by Billy Turner, Skelton-on-Ure, Ripon.
Following closely at 14,000gns was another entry from across the water, this time the July 2005 born Derryharney Ablaze CH20 from Harold Stubbs, Lisnaskea. Sired by his home bred 18,000gns Derryharney Outstanding and out of a homebred cow going back to Simpsons Gregg, Ablaze sold to Jim Fraser and his son, Colin to run with their 300 cow suckler herd based at Glenlivet, Ballindalloch which consistently produces Charolais cross calves featuring within the day's top 5% of trade at Thainstone.
Three more lots shared a 12,000gns price tag. First to sell was the reserve senior champion, Sandelford Antrim CH33 from George and Gary Henderson, Bushmills, County Antrim. A May 2005 born Goldies Usher son, and out of a homebred cow by Blanerne Fearless, he travelled to Wales with AL Davies and Sons, Llangammarch Wells, Powys.
At 12,000gns, Moyness Alasdair CH36 led a line up of entries from Sandy Innes, Auldearn, Nairn. This August 2005 born Gretnahouse Ultimate son was out of a homebred cow going back to Moyness Polonium. He headed back up north with KJ Riddoch, Cornhill, Banff. Next best from the same breeder at 10,000gns was Moyness Ambition CH33 to Ballathie Estates, Stanley, Perthshire. A 17 month old by Moyness Saltire, he was out of one of the herd's best cow families and his full brother, Moyness Vivacious sold for £30,000.
The final 12,000gns call was made for Gretnahouse Amazon CH27, a September born Gretnahouse Noel son from Alasdair Houston, Gretna Green. Amazon, who was placed second in his class, was out of a homebred cow going back to Friarton Drusilla who has bred a string of winners including Meikle, a member of the 2000 Burke trophy team. The buyer was DH Montgomery, Dromore, Omagh, NI.
Banffshire based partners, Raymond Irvine and Frank Lawson, Glenlivet, Ballindalloch offered their first class prize winner, Ballindalloch Aero CH36 for 11,000gns to Henry and Emma Vooght, Bovey Tracy, Newton Abbot. This 18 month old was by the noted Inverlochy Resolve and out of an Elgin sired homebred cow.
Raymond Irvine, who also runs the Inverlochy herd with his father John, at nearby Tomintoul, sold their highest at 8,500gns to DN Campbell and Sons, Thurso, Caithness. Inverlochy Assured CH23 was a June 2005 born Rumsden Samurai son and his Balmachie bred dam goes back to Baggrave Hidalgo. Inverlochy Anchor CH33, an 18 month old Resolve son sold for 8,000gns to J Anderson and Son, Lauder.
Will Short, Omagh, County Tyrone was another NI breeder to make a successful trip over the water. His Woodpark Arizona CH37, a 15 month old youngster sired by Rumsden Tsar headed his class and later commanded the second 11,000gns bid, this time from Orkney breeders, GT and S Coghill, Muce, Birsay.
The Campbell family, Ian and John, and their father Colin of Thrunton, Alnwick sold their highest entry Thrunton Alpha CH38 at 10,000gns to Libby Clark, Springfield,Lurgan. This 18 month old was by the 15,000gns Burradon Talisman who sired the 55,000gns centre record price intermediate Perth champion, Thrunton Voldemort, and he was out of a homebred cow by Moncur General, the 20,000gns Perth champion.
The Campbells also scored a hat trick by securing the champion group of three award for the third consecutive time with progeny by Talisman. Alpha was a member of this year's team along with two other entries which each sold for 8,000gns; Thrunton Ambassador CH36 to Teasses Estate, St Andrews, Fife, and Thrunton Atomic CH37 to SJ Gordon, Forbes, Alford. The Campbells secured a third 8,000gns bid, this time for Thrunton Admiral CH31, a Mowbraypark Orlando son and out of a Maerdy Nero sired homebred dam. The buyer was Sir D Thomson, Walkerburn, Peebles.
John Howells and his son, Peter made another highly successful 860 miles round trip from Llanwenog, Llanybydder this time with a couple of Blelack Tycoon sons. The 18 month old Gwenog Ace CH26 was out of a Reddivallen cow, whose sons have previously sold to 10,000gns, commanded the exact same 10,000gns price tag from J and M McDonald, Dunbeath, Caithness. Gwenog Actionman CH28, a 17 month old who secured the yearling title at the South Wales Charolais Club calf show, made 8,000gns to R Dalglish, Sanquhar, Dumfries.
The third 10,000gns bid was made for Killadeas Allister CH35, from father and son team, Stuart and David Bothwell, Ballinamallard, County Fermanagh. This 16 month old by Dunlon Ulick and out of a hombred dam by Doonally New, was knocked down to SD Munro, Kingussie, Inverness.
Chris Curry, Thropton, Morpeth offered his September 2005 born Burradon Avenger CH37 for 9,500gns to previous Welsh Charolais Suckler Herd of the Year winner, Alan Williams, Aberdaron, Caernarfon. Sired by Mowbraypark Paramount whose sons have previously sold to 24,000gns, he was out of a heifer by Blelack Prince.
Kevin Thomas, of Capel Iwan, Newcastle Emlyn sold his single entry, Moelfre Ambassador CH44 for 9,000gns in a two way split to Cumbria purchasers; father and son partnership, Tom and Ian Bell of the Hallbankgate pedigree Charolais herd, Brampton; and David Lawton who manages one of the north west's largest suckler herds at Greystoke Castle Farms, Penrith. Ambassador who was a 15 month old Mowbraypark Paramount son and out of a Gower bred cow, headed his class the previous day, however he was no stranger to the ring having claimed the overall championship title at the South Wales Calf Show 2006.
Brooton Alistair CH20 a May 2005 born first class prize winner from David and Roz North, Brant Broughton, Lincolnshire was among the string of bulls knocked down sold for 8,500gns. Sired by Blelack Ladysman and out of a Limestone bred cow by Balthayock Marius he went to JH Anderson, Fortrose, Ross-shire.
Archie MacGregor, Kilsyth, Glasgow offered his highest at 8,500gns to BA Williams, Llanfairpinll, Anglesey. Allanfauld Allegro CH30 was a 20 month old Allanfauld Tennessee son and out of a Gretnahouse Noel sired dam.
Cumbria breeder, Peter Vasey, Wetheral, Carlisle sold his first class prize winner, Edenhurst Apollo CH25 for 8,500gns to Aberdeenshire based Kincraigie Farms, Banchory. A Dingle Hofmeister son, Apollo was full brother to the 8,000gns Perth junior champion, Edenhurst Sterling.
Leading entry at 8,500gns from Major David Walter, Perth was Balthayock Adolphus CH48, a 15 month old by Penfold Seaanchor and out of a Dingle Hofmeister sired dam. The buyer was G Roberts, Pwllheli, Gwynedd.
Resurgence in demand for Charolais females
Resurgence in demand for Charolais females was reflected in the enthusiastic bidding, not only from pedigree breeders seeking to expand their herds, but also commercial producers aware that recent results from SAC trials, have confirmed the underestimated role of Charolais as an added value functional suckler cow.
Heading the trade at 5,500gns was the reserve female champion, Dunesk Victoria CH22, an August 2004 born heifer by Moyness Statesman, out of a homebred cow by Brampton Fourstar and served to Burradon Talisman. Bred and exhibited by Jimmy McMillan, Brechin Angus, she was secured by Adrian Ivory, Meigle.
Minutes before the female champion, Goldies Val CH23 was knocked down sold for 3,200gns to Norman Innes, Findhorn, Forres. Bred by the Goldie family, Jim, Kay, Bruce and Hamish, of Mouswald, Dumfries, she is full sister to the 34,000gns supreme Perth champion, Goldies Unbeatable and served to Newroddige Venture, the Royal Show junior interbreed champion. The same purchaser took home four lots including the highest lot at 3,500gns from Esmor Evans' Maerdy draft, Maerdy Vyse a served two year old by Maerdy Grimaldi.
Averages: 199 bulls £5,426.38; 39 females £1,997.69

Auctioneers: UA

High Performance Angus Bulls attract Top Bids at Perth


British Charolais exported to France


Mosston Muir Aberdeen Angus Herd of The Year