Massey Ferguson's 6497 Tractor wins Machine of the Year at Agritechnica
10/11/05
MF 6400 Series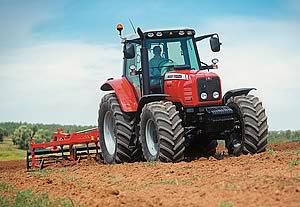 · All new 50 km/hr Dyna-6 transmission with option of full Autodrive.

· Latest quieter, smoother, more powerful 200 hp SISU Tier III engine.

· Significantly improved power to weight ratio for awesome performance both in the field and in haulage.

· Superb operator environment – quietest cab in its class.

· Option of new fingertip armrest controls.

· Datatronic III - Class leading monitoring and control with ISObus compatibility.

· Unique GTA Record Keeper allows recording of machine and field data and simple transfer to Office PC for processing.
Massey Ferguson scooped yet another machinery award during this week's
prestigious Agritechnica Show in Hanover.

With its all new 50 km/hr Dyna-6 Eco transmission, latest SISU tier 3 engine, uprated power and lower weight, Massey Ferguson's 6497 has scooped the top award at Germany's Agritechnica Show for tractors in the 150 - 200 HP power class.

Together with impressive new features on the MF 8400 series and MF 7400 series, the MF 6497 and its higher powered stablemate - the MF 6499, flagships of the already award winning MF 6400 series - have really captured the imagination of visitors to Massey Ferguson's impressive stand at this year's Agritechnica.
The high specification now offered on Massey Ferguson's tractors attracted much comment from show visitors who are looking seriously at switching to Massey Ferguson. Speaking at the Agritechnica Show, one large contractor said: "I am surprised at the enormous changes on the MF tractors in the past few years. I was already fairly sure I would move away from my existing maker but now, after visiting the stand, I have made the decision to move to MF. Now all I need to do is chose whether to go for an MF 6497 (with Dyna-6 transmission) or the equivalent models with the CVT (in the 7400 Series). But I will change to MF."
The award confirms that Massey Ferguson's completely new 200hp MF 6497 stands alone in its class, with no other tractor able to match its design or specification.
This proves once again that Massey Ferguson is firmly back on top," commented Declan Hayden, Massey Ferguson's Vice President, Marketing for Europe, Africa, Middle East.
" Right across Europe, Massey Ferguson has gained more customers as they experience the performance of MF's completely new range of machinery. Over the last two years, MF has won more European machinery awards than any other make and has won awards at every Agritechnica show since 1999. The biggest award of all is the positive response we have had from our customers and Dealers. With leading engine and transmission development, coupled with an outstanding operator and control environment, the MF 6497 and its stablemate, the MF 6499, should be the tractor of choice for any farmer who is looking for a 200 HP, 50 KPH tractor"
The MF 6497's new Sisu Diesel, four-valve common rail engine is smoother running, quieter and provides more power and torque than its predecessor. The tractor is also significantly lighter which will ensure that it is an awesome performer both in the field and in haulage.
Also newly available at this horsepower is MF's Dyna-6 transmission that offers six, stepless changes under load in four gears. This is available with Speedmatching or fully automated control with AutoDrive (specification differs in markets). Dyna-6 now also provides a top speed of 50km/hr with QuadLink front suspension. Further sophistication is provided by new fingertip electronic spool-valve controls with flow memory.
With the Datatronic III (option) the timing of the valves can also be set and memorised using the Console 1 screen in the cab. This is just one of the many useful functions this unique system offers, including full headland management sequence control and the monitoring and control of numerous tractor and implement functions (thanks to ISOBus compatibility). On top of this is the new Record Keeper GTA software package that allows users to easily record, monitor and transfer a wide range of machine and field data to an office computer for processing.
2003 – 2005 MF Machinery awards include:
2003 SIMA Show
MF Pneumatic Cab Suspension – SIMA Citation
Technical Innovation Award

2003 FIMA Show
MF Pneumatic Cab Suspension
Technical Innovation Award
2003 FIMA Show
MF 185 Series II and 187 tandem axle big balers
Technical Innovation Award
2003 Agritechnica Show
MF 7400 Dyna-VT Machine of the Year 2004
Press Award
2003 EIMA Show
MF 3400 European Specialist Tractor of the Year 2004
European Press Award
2004 EIMA Show
MF 8480 – European Tractor of the Year 2005
European Press Award
2004 Smithfield Show
MF 8480 - Machine of the Show
Technical Innovation Award
2005 Royal Show
MF 6400 – Dyna-6 New Equipment Award
Technical Innovation Award

2005 Craiova Show
MF 8480 - Diploma
Technical Innovation Award
2005 Agritechnica Show
MF 6497 – Machine of the Year 2005 in the 150 – 200 hp class.
Press Award*

* The judging panel:
Machine of the Year is organised and judged by five of Germany's leading farming magazines – Wochenblat, DLZ Magazin, Land & Forst, Agra Technik, Neue Landwirtschaft. The Awards are presented on the first public day of the DLG Agritechnica Show in Hanover.

New additions make Massey Ferguson MF 8400 flagship really fly


New features for MF 6400 series tractors


MF 7400 Tractors - Dyna-VT and New Panoramic cab


MF Combines cut harvesting costs. New features for 2006 harvest