28/11/05

Champion Female - Gretnahouse Untouched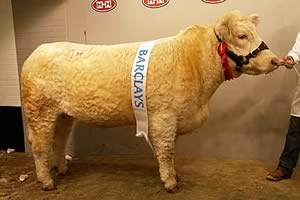 Charolais were bid to 5,500gns at the breed society's annual autumn show and sale in Carlisle on Saturday 26 November. Despite blizzard conditions, renewed interest in the Charolais breed fuelled one of the most buoyant trades for females since prior to the introduction of OTMS with entries from the event's Christmas Cracker taking the lead.

The day's top 5,500gns call was made for Edenhurst Unity CH26, an April 2003 born second class prizewinner by Oldstone Egbert and out of Lynedraw Gamelia purchased at the Stoddart's herd dispersal for 6,000gns. Unity was sold in calf to Gretnahouse Ultimate to breed newcomer, AJ Mckie, East Chisenbury, Pewsey, Wiltshire.

Unity who was bred and exhibited by Peter Vasey, of Wetheral, Carlisle, enjoyed one of his best ever Christmas Crackers since the event was introduced 15 years ago; his three leading female entries sold to net 12,700gns. The day was made even more sweeter since these heifers were close to drowning during the January floods and had to be swum out of the steading to safety by the Vasey's friends and family.

Peter Vasey's other leading two entries were also by Oldstone Egbert who has been used widely across his 60 cow herd. At 4,200gns he offered Edenhurst Virtue CH23, a rising two year old placed third in her class and out of the homebred Edenhurst Patience who bred the 5,800gns Carlisle May 2005 reserve male champion. Virtue was knocked down sold to Jan Boomaars, Woldingham, Sussex together with several more lots including Edenhurst Utopia CH22 at 3,000gns. Utopia CH22, who was first in her class, was a two year old out of the homebred Edenhurst Rosanne and maternal sister to the 2005 Scottish National Charolais Show champion.

Other leading female entries included at 5,000gns Alsnow Unity CH26, a September 2003 born Mowbraypark Orlando daughter, out of a Glenisla bred cow and served to the 11,000gns Blelack Jaguar. Bred by Alan Lawson and Son, Hallington, Newcastle on Tyne, this first class prize winner was secured by A McKie who also shelled out 2,800gns for Mowbraypark Viva CH40, an 18 month old maiden from Mike and Margaret Atkinson, Kirkby Malzeard, Ripon. Viva's parentage on both sides goes back to Killadeas Jack. She was by their Mowbraypark Paramount, a Jack son who is senior herd sire in their 40 cow herd, and out of the home bred Jack daughter, Mowbraypark Portia.

A third 5,000gns bid was made in the female ring, this time for Thrunton Thistle CH25, a May 2002 born entry and one of five to come under the hammer sold from a draft offered by the Campbell family, Ian and John and their father, Colin, of Thrunton, Alnwick. Thistle was by the 25,000gns Perth supremo, Mowbraypark Orlando and out of a Blanerne Fearless sired homebred cow. She was sold with her first calf at foot, Thrunton Alcapone, a nine month old bull by Thrunton Ruslter, and she had been scanned in calf to Burradon Talisman. The pair went to JS Gibson and Son, Newbrough, Hexham.

The Christmas Cracker championship was awarded to Alasdair Houston's (Gretna Green) Gretnahouse Untouched CH31, a 20 month old by Harviestoun Marseille, out of a Limestone bred cow and served to the 20,000gns Moncur General. She made 4,000gns to breed newcomers, Mr and Mrs J Lomas, Flagg, Buxton.

The Mallaber Partners purchased two heifers to add to their newly established Newroddige herd at Drakelow, Burton on Trent. Both lots were by Maerdy Sinndar and they led the trade for Esmor Evans' (Mold), draft of 30 entries sold. The Mallabers forked out 3,400gns for the July 2003 born Maerdy Utensil, and 2,500gns for Maerdy Uncanny (August 2003).

Heading the trade for bulls at 5,000gns was the first class prize winner, Allanfauld Victory CH33, a 19 month old Gretnahouse Noel son and out of a Ragdale sired homebred cow, from Archie MacGregor, Kilsyth, Glasgow. The buyers were G and GW Mair, Meikleholm, Lockerbie.

The Welsh entry was led by Telgwyn Roberts' (Abergele, Conwy), Plasbela Vanguard making 4,600gns to SI Carlisle, Dumfries. This 21 month old who was awarded a blue ticket, was by Dingle Hofmeister and out of a Brynffanigl bred cow.

The day's second 4,600gns call was made shortly afterwards for Piatrooon Vibrant from Harold Forster and Sons, Bardon Mill, Hexham. Vibrant who was within the breed's top 1% with a Beef Value of CH43, was a March 2004 born Burradon Talisman son and out of a Thrunton bred cow going back to Mowbraypark Orlando. He headed to Caithness with P Oag, Wick.

The Forsters were again in the money later in the day when they sold at 4,000gns Piatroon Virgil CH32 to A Connolly, Wamphrey, Moffat. This 17 month old was by Doonally New and out of another Thrunton bred cow also by Orlando.

The overall male champion, Hackleton Victor was secured for 4,500gns by James and Vanessa Webb, Billesdon, Leicester. Bred and exhibited by Hackleton Farms, Hackleton, Northampton, this 19 month old Roundhill Rocky son was no stranger to the ring having been placed in reserve male slot at the National Charolais Show, Newbury earlier this year.

Next to go at 4,000gns was Bassett Vanya, a January 2004 born Edenhurst Super son and out of a homebred cow from Jean Atkinson's Thorpe Bassett, Malton based herd. Vanya who was awarded the reserve male championship sold to David and Marjorie Stobart, Brampton.

John Green, Bashall Eaves, Clitheroe offered his best ever so far in the 18 month old Greenall Vialli CH31 for 3,700gns to T and R Harper and Son, Skirling, Biggar. A Doonally New son, he was out of a Brampton bred cow going back to the 28,000gns Perth champion, Brampton Nacodar.

Two lots were bid to 3,000gns. First to go was Kevin Thomas' (Newcastle Emlyn), Moelfre Vintage CH44, an April 2004 born Mowbraypark Paramount son and out of Mowbraypark Peppermint. The buyers were DL and KM Porteous, Knockvennie, Castle Douglas.

The Barker family, of Nuthampstead, Royston offered the second 3,000gns lot, Caylers Vagabond CH25, an 18 month old Killadeas Prunity son to S Shell and Sons, Alnwick.

Averages: 35 bulls £2,307.86; 17 Christmas Cracker served heifers £2,245.15; 8 Christmas Cracker maidens £2,441.25; 14 other collective females £1,044.75.

Herd drafts: Thrunton, 5 head £3,024.00; Gretnahouse, 4 head £1,968.75; Charbron, 7 head £1,042.50; Maerdy, 30 head £1,569.73. Bishopton dispersal: 13 head £699.46.

Stirling man to judge Carlisle Charolais


Charolais breeds quiet optimism


Perth Charolais bulls meet a flying trade