WORLD RECORD 50,000 GNS FOR LIMOUSIN MAIDEN HEIFER

The pedigree beef breeds' record books were re-written on Saturday 18th December 2004 at Carlisle when a Limousin maiden heifer made a female breed world record of 50,000gns at the sale from the Bailea herd of father and son Brian and Matthew Jones, Bailea, Senny, Sennybridge, Brecon, Powys.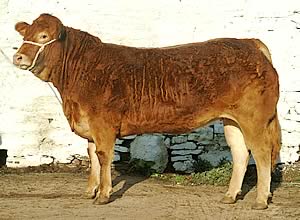 Bailea Umandy

Bailea Umandy, a May 2003 born heifer, smashed the previous all-time Limousin female top price of 29,000gns and set a string of new pedigree benchmarks. The sale is believed to be a world record for a pedigree beef female at auction and is a UK all beef breeds female record. Umandy is the second pedigree Limousin to sell for 50,000gns and above at Carlisle's Borderway Market following on from Grahams Samson at 55,000gns in February 2003.

This record breaking animal was got by AI by the French bull Requin, a Jacot son, and was out of home-bred dam Bailea Maud, a very powerful daughter of the prolific Greensons Gigolo. Purchaser was Smiths of Bloxham, Newlands Farm, Milton Rd, Bloxham, Banbury, Oxon who run the 140 strong pedigree Ironstone herd. Requin was purchased for the Bailea herd from Mme Patureau-Guillot and was described by Brian Jones as "ultra muscled with great shape, correct and good on his legs with a super temperament …. a Mr.Perfect in fact"!

Buyer Peter Smith commented: "She's the best breed example I've ever seen and looked as well back home the following morning as she did in the ring on the day. Her sire, Requin, is a very well muscled animal and her dam's bloodlines speak for themselves. Now we will be choosing a bull to put to her with the aim of getting a couple of natural calves before eventually flushing her. I am absolutely delighted with her"

Smiths of Bloxham have invested heavily in the breed over the last 3 months and this trend continued here at Carlisle where they bought 9 lots in total, all heifers, including the second-top price of the day, 14,000gns, for Bailea Ugina. "You couldn't hope to see a better run of heifers anywhere and the fact that they all come from the one herd, Brian & Matthew Jones, is testament to the marvellous job they are doing." Why is Peter Smith so confident about the future of the Limousin breed to spend £90,000 in one single day? "I've had Limousins for 25 years and despite difficult times ahead for farming, you have just got to farm - and farm the best quality - and in my experience that means Limousins."

Naturally, the seller was over the moon with his record breaking day. "This is the first sale at auction of any females out of Greensons Gigolo cows from the Bailea herd. Bailea Umandy is probably the best female we have ever bred within the herd. As well as the bloodlines, this beast had a tremendous outlook, carriage, great width and cleanness with a tremendous spring of rib." The Bailea herd is no stranger to success in the pedigree ring having sold bulls prolifically and consistently to top prices over a number of years. Prior to Saturday's exploits, their highest price received was 22,000gns for the bull Bailea Spunkie in May 2003, also at Carlisle.

Commenting on the Sale, British Limousin Cattle Society Chief Executive, Iain Kerr, said: "This is the culmination of another fantastic year for the Limousin breed. Over forty breeders sales have been held in the year and all have been very solid at the very least and frequently absolutely tremendous. It demonstrates the confidence breeders and commercial producers have in the breed to provide a long term commercial return. This is a marvellous achievement to end the Limousin sale year upon and to enter into the challenges of 2005."

In all, 74 lots of maiden and served heifers grossed £248,000 with the 34 maiden heifers averaging an incredible £4515.00.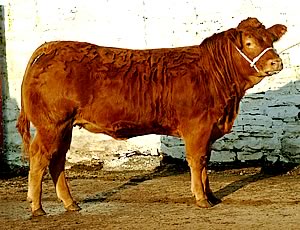 Bailea Ugina
The 14,000gns second top price was another May 2003 heifer, Bailea Ugina, again by Requin but this time out of dam Bailea Gina. Once more purchased by Smiths of Bloxham, they followed on by buying Bailea Urania, an Ocelot daughter and out of Bailea Orissa, for 4,500gns as well as Bailea Tuffy, a served heifer having run with Perigord and another February 2002 Ocelot daughter this time out of Bailea Oliette.

Also from the Bailea offering came the 4,800gns Bailea Ultrabright, a 21 month old heifer by Mythe and out of home-bred dam Bailea Gem. She sold to JS Adam, Garraron Farm, Ardfern, Lochgilphead. Dr SE Ingram of Keith Hall, Inverurie paid 4,500gns for another Mythe daughter this time out of Bailea Jumelee, a March 2003 born maiden heifer called Bailea Uhoo who joins her Whitelums herd. S Edmondson, Crookdale Cottages, Wigton, Cumbria purchased Bailea Tansy for her Edmo pedigree herd. Sired by Marron and out of Bailea Indiana, she was presented in calf to Perigord.

The females on offer from the Croftlimousin herd of Mr Derek Freer, Croft Lodge Farm, Broughton Rd, Croft, Leics also sparked a brisk trade with 6 lots making 4,000gns and above. The best of these was the 7,000gns Ronick Gertrude, a prolific calver by Talent and out of Ronick Tracy. Presented in calf to Sympa, this superb breeding cow vintage 1991, went under the hammer to D Thornley, Bretby On The Hill, Swadlincote, Derbyshire. The family dynasty continued with Gertrude's daughter, Croftlimousin Ruth, making the second top price of 5,200gns when selling to R Savage, Castlerock, Co Londonderry joining his Aghadolgan herd. A Gaulois daughter, she was presented with her Embryo Transfer bull calf at foot, Croftlimousin Vanhelsing, by Marron and out of Ronick Gertrude herself!

J Rafferty, Enniskillen, Co Fermanagh purchased served heifer, Croftlimousin Titbit, a July 2002 born Greensons Gigolo daughter out of Croftlimousin Primrose for 4,500gns. She was offered AI'd to Sympa. Croftlimousin Primrose herself was knocked down to P Dawes' Dinmore herd, Hereford for 4,000gns. Sired by Talent and out of Croftlimousin Molly, this second calver was AI'd in September to Marron.

Two further heifers made 4,000gns: Marron daughter Croftlimousin Serena and out of Croftlimousin Olive selling to GD Thomas, Nortoft Farm, Kilsby, Warwickshire; and Croftlimousin Unity by Greensons Gigolo and out of Croftlimousin Perfect, presented AI'd to Safran and snapped up by DT & M Stobart, Kirkcambeck, Cumbria for their Cracrop herd.

Averages
Bailea
40 served heifers £2357.25
34 maiden heifers £4515.00
Croftlimousin
7 cows in calf £2610.00
2 FOT calves suckling recipient dam £3780.00
7 served & maiden heifers £2775.00