| | |
| --- | --- |
| 2015-04-30 | |
Crop Market Update from Gleadell
Both US and Russian new crop prospects are improving, all-wheat plantings in Canada are expected to be higher than initially thought, and the EU is looking at another bumper crop.
Feed Wheat
US wheat futures in Chicago fell to their lowest in almost five years on signs that demand is waning for exports from the US. For the season starting last June, wheat sales to overseas buyers are trailing the 2014 pace by 24%, and recent rains are seen not only boosting prospects in the US, but also in Russia and the Ukraine, giving importers more options. Despite much-needed rains, US wheat crop ratings failed to improve, with disease incidence now taking a higher profile. Corn plantings increased to 19% complete, still ahead of last year's pace, and with weather deemed to be favourable another strong push is expected this week.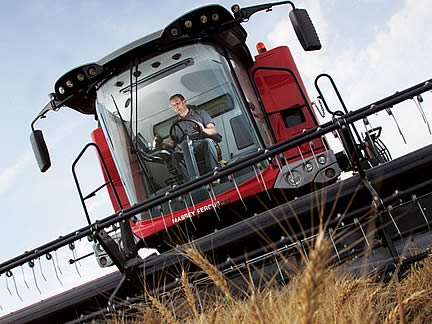 EU prices have followed the US lower on the week, as the euro posts a marked recovery against the US$. Reports that the Federal Reserve will throw out any potential early rise in US interest rates saw a sharp drop in the US$ against all major currencies. Another solid export week saw 679,000t of soft wheat licences granted, bringing the season-to-date total to 27.1mln t, up from 26.3mln t a year earlier. Reported comments from the Russian Ag minister over the export tax resulted in his removal, but not the tax! However, with wheat crop estimates growing by the day (now seen at 54-59mln t) amidst favourable weather, officials have now commented that the wheat export duty could be removed before the expiry date of the 30th June.
UK markets have also weakened, with old crop futures trading at contract lows for the season. New crop futures, trading around £120/t for Nov 15, are now just over 16% lower than at the beginning of January, a drop of £22/t. Old crop market dynamics remain unchanged as reduced demand is still met by a reluctance for growers to sell, although volumes are picking up, with sterling firming against the US$ but weakening against the Euro, UK supplies remain over priced for export.
In summary, as the weeks pass the concerns overhanging the markets from a few months ago are starting to be ticked-off. Both US and Russian new crop prospects are improving, all-wheat plantings in Canada are expected to be higher than initially thought, and the EU is looking at another bumper crop, with the area planted to wheat in France reported at a record high. El Nino weather concerns are evident, but while this may have a detrimental effect on Australian production, it should provide ideal growing conditions for US and SA crops. With Russian interior prices now below intervention levels, it is hard to assess at what point it becomes a real alternative, given interior logistical issues and currency fluctuations. With the likelihood that the Russian export duty will be removed, current market fundamentals would provide little incentive for market shorts to start trimming their position, and even though we are trading around contract lows, there still may be some way to go! Of course the UK election will affect the strength or weakness of Sterling.
Rapeseed
The old crop rapeseed market remains quiet in the UK with merchant short covering dominating the market. Crush margins remain poor for old crop and we see little demand from crushers.
In Europe crops currently look good and we see no problems at present. New crop activity remains slow particularly in the UK where prices are unattractive to growers. The market currently lacks a story to get prices moving.
We have seen the euro rebound against the US dollar and sterling, which has offered some support to UK delivered prices.
Malting Barley
The final export programmes for crop 14 are underway with little fresh demand for unsold tonnages.
New crop prices have weakened slightly, following forecasts of higher rainfall throughout Europe. This after reports of dryness brought support to new crop prices last week
Australia is also seeing more rainfall, relieving concerns of low soil moisture hampering crop emergence. But there is still a long way to go.
The weaker MATIF has brought EU malting prices under pressure and in line with the wider grains.
The UK has received some rain but more is needed for the spring crops.
Sellers remain quiet across the EU, which is supporting premiums.
Feed Barley
The barley market continues to come under pressure in both old and new crop positions as old crop demand remains limited and the outlook for new crop is one of good supply and favourable spring plantings.
Barley plantings throughout key European and Black Sea growing regions are reported to be in good condition, aided by favourable weather and timely rainfall.
New crop demand remains limited, with Black Sea regions still offering tonnage at more competitive levels than European sellers.
The domestic feed barley market remains in a stalemate situation, with little farmer selling and little consumer buying interest.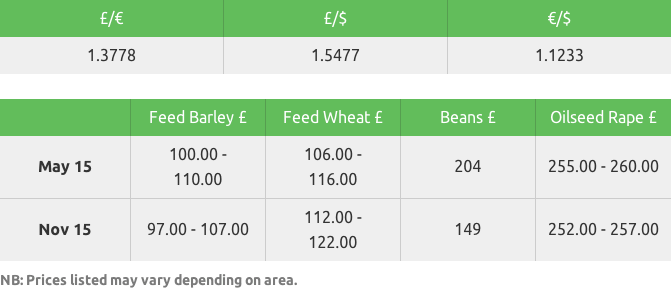 Oats
Rain of varying amounts finally arrived last weekend and kick-started most of the spring crops, which had initially struggled to produce foliage.
The oscillations in temperature however remain, further confusing the plant.
A few more growers have released their remaining old crop stocks – time is no longer on their side as the campaign draws to a close.
The continued drop in the wheat market has, at the moment, affected offers of new crop oats as both buyer and seller wait for a better day.
Pulses
The congestion regarding old crop shipments to Egypt continues. It would appear that if there is any renewed interest in the old crop spring beans it will be after Ramadan.
New crop remains very quiet with regard to farmer selling and consumer interest. Whilst the wheat complex continues to weaken, buyers/shippers will remain absent from the market.
Daytona large blue pea contracts are still available for contracted growers only.
Seed
The 2015/16 HGCA Recommended List has many new varieties available for growers across a number of species. With increased yields, consistent qualities and excellent disease resistance portfolios, autumn 2015 is set to be an interesting one.
KWS Lili is the top Group 2 winter wheat for yield, equalling the yield of popular varieties KWS Santiago and Leeds, as well as providing consistent qualities across regions and land types.
Britannia is a soft endosperm Group 3 biscuit wheat from Limagrain. It has very good resistance to the foliar diseases, giving a high yield potential both with and without fungicides.
Reflection leads the way for yield potential and is top of the RL. This hard Group 4 variety also has good disease resistance, high specific weight and is earlier to mature than its competitors.
Campus is the best all round conventional oilseed rape variety on the new RL and was the top conventional in 2014 in both East/West and North regions, making it an excellent choice for growers in all areas.
For hybrid growers, the popular variety Incentive has a very high output potential with good seed yield and oil content.
The oilseed rape candidate list should not be discounted. Wembley, from LSPB, is top of the candidate list for the East/West region and looks to be a solid all-rounder.
Fertiliser
Urea
Over the last week, the global market appears to be stabilising for spot granular urea, suggesting we may have seen floor values. With China unwilling to drop granular and prilled urea prices any further, it is likely that recent tenders will add further support to a strengthening market in the coming weeks. In the UK, we are seeing importers offer spot prices below replacement values and taking speculative views on forward markets. In our opinion, the market isn't as weak as first thought and like all markets, urea continues to be an increasingly volatile commodity. Based on this, the values we are seeing today could well be the bottom of the market but Q3/4 levels are still unknowns.
Ammonium nitrate
A very different picture for ammonium nitrate with both UAN and AN values struggling to find support in Europe. UK domestic prices have moved down further this week as stock holders of imported AN compete to move tonnes after a quiet spring fertiliser market. Adding to this pressure, producers are suggesting lower June values as typical for this time of year, as a reset in the AN market looms. Demand has picked up for spot movement of AN as grassland farmers begin to enter the market for top up tonnes. GrowHow, the UK's only producer, can still deliver all products to farm within five working days. For more information, please contact your local Gleadell Farm Trader.
ENhancePro - Enhancing grain protein to achieve milling premiums
With the increasing popularity of high yielding Group 1 varieties, the potential for protein dilution in the grain becomes a possibility and nitrogen application programmes will have to reflect this. Hitting the required 13% protein levels required for milling wheat premiums by applying a late foliar nitrogen (at GS 69-75) , should be a priority for all growers this year. ENhancePro offered by Gleadell is a concentrated, foliar nitrogenous spray, unlike any other conventional foliar ureic product. Produced from highly bio-available sulphur (ATS), ENhancePro has been proven in field trails to significantly increase protein in milling wheats. It contains adhesion compounds and buffers so remains in contact with the leaf longer, improving absorption but minimises risk of scorching. Gleadell can offer a flag leaf tissue analysis to our milling wheat growers, to provide an indication of whether or not this late application of nitrogen is needed. Please contact the fertiliser department on 01427 421241.