VETAID is a non-profit, overseas development organisation working for poverty reduction and food security of people dependant on livestock.
VETAID's remit is to improve livelihoods of small-scale farmers and pastoralists by improving access to livestock health and husbandry resources, building on traditional livestock practices where possible.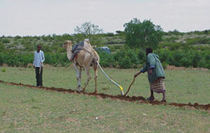 VETAID is currently working in three countries of sub-saharan Africa, Somaliland, Tanzania, and Mozambiqueand has previously worked in Afghanistan, Southern Sudan and India. Their projects are designed to meet the needs of livestock keepers in those countries to improve their food security and the contribution which livestock make to their lives.
VETAID receives project funding from a number of large donor organisations, but we rely on contributions from the public, charitable trusts, vets and companies to maintain these projects and develop new ones.