Longtown Primestock Sale
2012-11-15
The Cumberland & Dumfriesshire Farmers Mart PLC had forward 48 prime cattle, 10 young bulls, 48 over thirty month cattle, 5,596 prime lambs and 7,437 cast ewes & rams at their weekly sale at Longtown on Thursday 15th November 2012.
A smaller, plainer show of prime cattle on offer but trade maintained last weeks good rates. More numbers are needed to satisfy a busy ringside of buyers. Top of 226.5p for a Limousin heifer shown by W. & W. Faulder, Houghton House. British Blue bullocks sold to 213.5p (700 kilos) from T. Armstrong & Sons, Sceughdyke.
PRINCIPAL PRICES (PER KILO)
Bullocks
British Blue 213.5p Sceughdyke.
Limousin 206.5p Swaites, 195.5p Fenton Farm.
Charolais 199.5p Sceughdyke.
Friesian 195.5p Plumpe Farm.
Angus 195.5p Plumpe Farm.
Heifers
Limousin 226.5p Houghton House, 209.5p Swaites, Campingholm and Cambeck Hill, 207.5p Hallburn, 197.5p Houghton House.
British Blue 209.5p Beckhall, 208.5p, 197.5p New Holme Farm.
Charolais 203.5p Hallburn.
PRINCIPAL PRICES (PER HEAD)
Bullocks
British Blue £1,494 Sceughdyke, £1,466 Sandbed.
Charolais £1,416 Sceughdyke.
Heifers
British Blue £1,257 Beckhall, £1,204 New Holme Farm, £1,174 Sandbed, £1,167 New Holme Farm.
Limousin £1,189 Houghton House, £1,146 Sandbed, £1,125 Beckhall, £1,120 Cambeck Hill.
Charolais £1,134 Cambeck Hill.
Young bulls were a better show for quality and saw an average of 206.4p with a top price of 222.5p for a Limousin from M. & G.A. Nicholson, The Lake.
PRINCIPAL PRICES (PER KILO)
Limousin 222.5p The Lake, 210.5p, 200.5p Dumbretton.
British Blue 217.5p, 197.5p Netherton.
PRINCIPAL PRICES (PER HEAD)
British Blue £1,479 Netherton.
Limousin £1,468 The Lake.
A similar number of cast cows were forward with a large portion of them being feeders once again. Top price of 207.5p for a Limousin from Messrs West, New Holme Farm, Charolais to 192.5p from the same home.
PRINCIPAL PRICES (PER KILO)
Limousin 207.5p New Holme Farm, 127.5p Meinbank, 119.5p, 118.5p Englishtown, 117.5p Morley Hill.
Charolais 195.5p New Holme Farm, 186.5p Plumpe Farm.
Aberdeen Angus 174.5p Plumpe Farm.
Montbeliarde 158.5p, 152.5p Stonewalls.
Simmental 121.5p Cumstone.
British Blue 117.5p Tinnis Hall.
PRINCIPAL PRICES (PER HEAD)
Limousin £1,535 New Holme Farm.
Charolais £1,203 New Holme Farm, £1,193 Plumpe Farm..
Aberdeen Angus £1,081 Plumpe Farm.
Montbeliarde £1,014 Stonewalls.
Simmental £935 Cumstone.
British Blue £846 Tinnis Hall.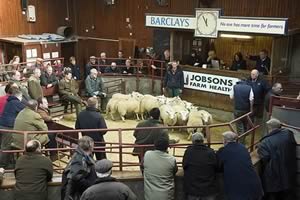 A larger show of 5,596 lambs was forward to a busy ring of buyers. The sale average was 150p, 5p to 8p in front of most others centres this week. Best export lambs continue to sell well and short of buyers requirements. The sale was topped at 223p per kilo for Beltex from B.D. & M.S. Hope, Albierigg and to £89.80 per head for Texels from Messrs Roots, Kilnfordcroft and from Messrs Watson, Low Lonning, others £88.80 Kilnfordcroft, £87.50 Crumhaugh Hill; Beltex £85.80, £84.80 Albierigg, £64.20 Byers Farm; Suffolk £81.80, £80.80, £79.80 Kilnfordcroft; Charollais £75.80 Windyhill, £69.80, £67.20 Ardlamy; Greyface £68.80 Guardsmill, £67.80 Bayldon, £66.20 Albierigg; Half Bred £65.80 High Moat, £59.20 Earlside; North Country Cheviot £64.80, £61.80 Hownam Grange, £61.20 Balure; Hill Cheviot £63.80 Twislehope, £62.80 Archerbeck, £61.80 Falnash; Jacob £62.80 Broomhill; Blackface £59.80 Brennanlea, Boreland and Skelfhill, £57.80 Brennanlea and Arnicle; Kendal Rough £52, £50 Low Northsceugh.
The 982 lightweight lambs to £56.80 for Beltex from Maidencoates; Texel £55.20 Langholm Farm, £53.80 Castlemilk; Greyface £51.80 Ardlamy; Blackface £49.80 Brennanlea, £48.80 Balliemeanoch; Hill Cheviot £48 High Chesters, £46.80 Crossibeg; Cheviot Mule £46.80 Parkhill.
Another fine show of 7,437 cast ewes & rams was forward to a full ring of buyers although demand was steady but the quality of ewes was not as strong as last week. Plainer ewes beginning to dry up and numbers likely to slow up in coming weeks. The sale topped at £120.50 for heavy Texel ewes from Ballimachiller, £120, £118.50 Severs; Beltex £108.50 Roadside, £98.50 Netherplace, £85.50 Severs; Charollais £100.50 Seavers, £90.50 Baron Road, £89.50 Roadside; Suffolk £94.50 Calees Cottage, £92.50 Skaill, £89.50 Hopehill; North Country Cheviot £82.50 Biggin, £81.50 Haithwaite, £80.50 Biggin; Leicester £80 Stackbraes, £76.50 Shielsknowe, £74.50 Shitlington Hall; Cheviot Mule £77.50 Skelfhill, £75.50 Hermitage, £70.50 High Greenhill and Harwood House; Greyface £70.50 Redhouse, £68.50 Croft House, £66.50 Hott Farm; Half Bred £67.50 Easterfrew, £62.50 Hopehill.
Hill ewes to £60.50 for Cheviots from Lhaid Croft, £55.50 Hermitage, £52.50 Roadside; Lleyn £55.50, £47.50 Newbigging, £39.50 Glebelands; Blackface £52.50 The Side, £49.50 Hott Farm, £48.50 Stotsfold; Swaledale £42.50 Hollinclose, £40 High Lovelady Shield, £39.50 Stotsfold; Shetland £36.50 Greenland Mains; Herdwick £28.50 Powheads.
Rams to £106.50 for Bleu d'Maine from Glenart; Suffolk £93.50 Newbigging, £87.50 Severs; Texel £100.50 Cracrop, £100 Maidencots and Greensburn, £96.50 Ballimachiller; Charollais £100.50 Port o Spittal, £79.50 Nipster; Beltex £90.50 Ballimachiller, £88.50 Port o Spittal; Lleyn £80.50 Glebelands; North Country Cheviot £76.50 Old Hall; Hill Cheviot £72.50 Hillside, £68.50 Newbigging; Romney Marsh £70.50 Nipster; Leicester £70 Longlea and Earlside, £66.50 Woodhouse; Swaledale £70 Roundmeadows; Easycare £67.50 Port o Spittal; Jacob £66.50 Maidencots; Dorper £53.50 Port o Spittal.
Averages:
Steers
Light to -------p (-------p)
Medium to 206.5p (187.7p)
Heavy to 213.5p (197.5p)
Heifers
Light to 209.5p (177.3p)
Medium to 226.5p (189.3p)
Heavy to 209.5p (187.6p)
Young bulls to 222.5p (206.4p)
Lambs
Light to 166.0p (129.9p)
Standard to 223.0p (148.5p)
Medium to 205.0p (153.3p)
Heavy to 193.0p (149.4p)
O/weight to 154.0p (145.8p)
Ewes
Light to £60.50 (£31.69)
Heavy to £120.50 (£58.29)
Cast Rams to £106.50 (£67.38)

Longtown Primestock Sale - 8th November 2012


Longtown Primestock Sale - 1st November 2012


Longtown Primestock Sale - 25th October 2012