Longtown Primestock Sale
2012-07-26
The Cumberland & Dumfriesshire Farmers Mart PLC had forward 54 prime cattle, 8 young bulls, 37 over thirty month cattle, 4,646 prime lambs and 5,306 cast ewes & rams at their weekly sale at Longtown on Thursday 26th July 2012.
Prime cattle were an improved show of quality and saw trade a little sharper with the sale topped at 225.5p and 224.5p (twice) for Limousin bullocks from A. & W.J. Taylor & Son, Dashwell Green. Charolais heifers topped at 218.5p from J.W. Vevers, High Stenries, Limousin heifers to 216.5p from J.F. & S.J. MacDonald, Ladyhousesteads.
PRINCIPAL PRICES (PER KILO)
Bullocks
Limousin – 225.5p, 224.5p (x2) Dashwell Green, 218.5p Slealands, 217.5p Wyseby Hill Cottage, 216.5p, 215.5p Dashwell Green, 214.5p Wyseby Hill Cottage, 212.5p Dashwell Green, 212.5p The Gill, 210.5p, 208.5p Dashwell Green, 201.5p Houghton House, Fenton Farm and Becton Hall, 200.5p The Gill.
British Blue – 216.5p Dashwell Green.
Charolais – 212.5p Dashwell Green.
Saler – 204.5p Nether Onsett.
Heifers
Charolais – 218.5p High Stenries, 214.5p Hallburn and Upper Tinwald, 213.5p Hallburn, 207.5p High Stenries, 202.5p High Stenries.
Limousin – 216.5p Ladyhousesteads, 211.5p Upper Tinwald, 207.5p High Stenries and Slealands, 201.5p Sceughdyke.
British Blue – 209.5p Ladyhousesteads.
PRINCIPAL PRICES (PER HEAD)
Bullocks
Charolais – £1,551 Dashwell Green.
British Blue - £1,472 Dashwell Green.
Limousin – £1,469, £1,424 Wyseby Hill Cottage, £1,390 Houghton House.
Heifers
Charolais – £1,319 Upper Tinwald, £1,136, £1,123 High Stenries.
Limousin – £1,223 Ladyhousesteads, £1,216 Upper Tinwald.
British Blue - £1,194 Ladyhousesteads.
Young bulls were a good trade again but more numbers required. Top of 216.5p twice, firstly for a Limousin from Mr J. Jardine, Yett Farm and also for a British Blue from J. Retson & Son, Gardrum.
PRINCIPAL PRICES (PER KILO)
Limousin – 216.5p Yett Farm, 202.5p Gardrum.
British Blue – 216.5p Gardrum.
Blonde d'Aquitaine – 197.5p Yett Farm.
Shorthorn – 182.5p, 172.5p Minsca Farm.
The 37 OTM cattle were a better show and saw plain cows cheaper but meat cows good to sell. Top price of 179.5p for a Limousin from K.W. Coulthard & Partners, Low Hallburn
PRINCIPAL PRICES (PER KILO)
Limousin – 179.5p Low Hallburn, 151.5p, 149.5p Aimshaugh, 149.5p Wyseby Hill Cottage, 144.5p, 143.5p Nunscleugh, 142.5p, 137.5p Upper Tinwald, 136.5p Harehill.
British Blue – 147.5p Sceughdyke, 140.5p, 139.5p Greensburn.
Angus – 139.5p Waughslea.
Friesian – 128.5p Peterscrook, 125.5p Riddings.
PRINCPAL PRICES (PER HEAD)
British Blue – £1,268 Sceughdyke, £920, £885 Greensburn.
Limousin – £1,128 Aimshaugh, £1,040 Nunscleugh, £960 Low Hallburn, £955 Harehill, £941 Aimshaugh, £926 Wyseby Hill Cottage, £904 Nunscleugh, £848 Harehill.
Angus – £969 Waughslea, £947 Harehill.
Friesian – £899 Peterscrook, £872 Riddings.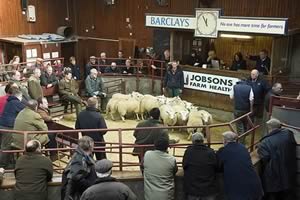 A much larger show of 4,646 Prime Lambs averaged 201.4p per kilo, well in line with this weeks trading as more numbers come forward. More heavy weight lambs (44 kilos+) required. Top of 228p per kilo for Texels from Oswie and to £110.50 per head for Texels from Kilnfordcroft and High Stenries, £109.50 Tonehall, £107.50 Baltier; Suffolk £104.50 Bardnaclaven and Oswie, £99.80 Tonehall, £99.50 The Croft; Charollais £95.20 Moss Side, £90.20, £87.80 Winshield; Beltex £90.80 Hilltop; Greyface £86.80 Stoneriggs, £85.20 Nunscleugh, £79.80 Harelawhill; Half Bred £83.80 Adderston Shiels, £77.80 Earlside; Hill Cheviot £82.80 Chapel Farm; Cheviot Mule £80.20 Crossdykes, £74.80 The Cooms; Oxford £79.80, £78.80 Guards; North Country Cheviot £79.80 Riggshield, £78.80 High Moat; Kerry £73.80 Riggshield; Swaledale £69.80 Stoneriggs, £68.50 Coach House; Blackface £69.80 Chapel House.
Also included in the sale was a Show & Sale of Suffolk Lambs on behalf of the Suffolk Sheep Society. The Show was in pens of 10 and was ably judged by Mr Haig Murray, Dunbia, who awarded the Championship to a pen from Messrs J. & K. Fell, Staffler, which scaled at 47 kilos realising £96.80 to M. Lomax, 2nd prize went to T. Armstrong & Sons, Sceughdyke, scaling 45 kilos and realising £94.80 to M. Bowe with 3rd prize to Messrs Lumley, Newbiggin, weighing 45 kilos and selling at £86.80 to M. Lomax.
An excellent show of 5,306 cast ewes, rams and hoggets were forward to the usual ring of buyers with trade £7-£8 back on the week, especially for big ewes. Good lean selling ewes remain in demand. Good fleshed hill ewes and plain ewes were easily sold. Tups short of requirements and continued at recent high rates.
Top price of £152.50 for Texel rams from Burdon, £150.50 Cambwell, £149.50 Severs; Zwartbles £139.50 Severs, £104.50 Fowrass; Suffolk £137.50 Millhill, £124.50 Burdon, £112.50 Glebelands; Beltex £121 Fowrass, £118.50 Wallend; North Country Cheviot £119.50 Severs, £108.50 Cowburn; Hill Cheviot £102.50 Crossdykes, £96.50 Tushielaw, £94.50 Longburgh Fauld; Leicester £99.50 Highside, £98.50 Castlenook; Blackface £98.50 Redesmouth, £94.50 Tonehall and Kersknowe, £89.50 Cowburn; Swaledale £76.50 Stackbraes, £69.50 Waterloo.
Heavy ewes to £132.50 for Texels from Bardnaclaven, £130.50 Road Side, £127.50 Baltier; Bleu d'Maine £108.50 Severs; Suffolk £106.50 Dockray Hall, £105.50 Morley Hill, £100.50 Road Side; Leicester £101.50 Hillhouse, £100.50 Redesmouth, £98.50 High Edges Green; Charollais £99.50 Severs and Burdon, £97.50 Road Side, £94.50 Severs; Border Leicester £93.50 Kersknowe; North Country Cheviot £93.50 Bardnaclaven, £82.50 Hillhead, £80.50 Earlside; Cheviot Mule £89.50 High Stenries, £74.50 Tushielaw, £70.50 Mossband House; Half Bred £89.50 St Johns, £85.50 Newington; Zwartbles £86.50 Roadside, £81.50 Hillhead, £8050 Achaurole Mains; Greyface £85.50 The Croft, £84.50 Haithwaite, £78.50 Kersknowe.
Hill ewes to £76.50 for Cheviots from Sorbietrees, £74.50 Longburgh Fauld, £73.50 Buchtrig; Blackface £71.50 Redesmouth, £67.50 Old Police House, £64.50 Minsca; Swaledale £69.50 Stubsgill and Kirkland Green, £61.50 Stoneriggs, £60.50 Snowden Close; Kendal Rough £57.50 The Bents; Herdwick £55.50 The Bents.
Averages:
Steers
Light to 192.5p (192.5p)
Medium to 225.5p (206.6p)
Heavy to 217.5p (196.0p)
Heifers
Light to 214.5p (208.2p)
Medium to 218.5p (201.2p)
Heavy to 214.5p (214.5p)
Young bulls to 216.5p (194.2p)
Lambs
Light to 215.5p (193.9p)
Standard to 221.0p (201.4p)
Medium to 228.0p (202.6p)
Heavy to 216.6p (200.6p)
O/weight to 208.0p (193.9p)
Ewes
Light to £76.50 (£50.41)
Heavy to £132.50 (£78.06)
Cast Rams to £152.50 (£105.45)

Longtown Primestock Sale - 19th July 2012


Longtown Primestock Sale - 12th July 2012


Longtown Primestock Sale - 5th July 2012