£21,000 per Acre at Cumbrian Farm Auction
2011-11-22
Yesterday, at their first public auction ever to be held in south Cumbria, H&H Bowe achieved over £21,000 per acre for the 37 acre Greenslack Farm near Broughton in Furness.
The land at Foxhill near Matterdale in Penrith will be sold by auction as a whole with a guide price of £200,000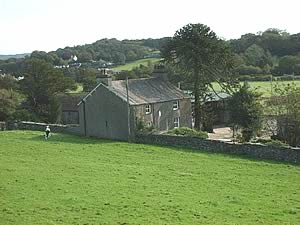 This farm, previously operated as a diary unit sold for 50% more than the original guide price to a local businessman. The auction held at the Victory Hall in Broughton in Furness was attended by over 100 people and from the outset, bidding for this former County Council Farm was brisk. The bidding quickly surpassed the expected figure of £500,000 and with a number of active bidders the gavel eventually went down twelve minutes later at £780,000.
Greenslack Farm located on the edge of the Lake District National park, with easy access to the A595, included, 37 acres of pasture and numerous traditional and modern farm buildings. The seven bedroom farmhouse had not been lived in for many years and was in need of total renovation.
This was a fantastic result especially taking into account the current economic climate, and commenting afterwards, Auctioneer for H&H Bowe David Thomlinson said : "We knew in advance that there was considerable interest in Greenslack Farm so we were anticipating that the auction would be well attended. However, this result far exceeded our expectations and it really does demonstrate that when the demand is there, good prices can be achieved."
H&H Bowe Limited are the H&H Group's specialist Chartered Surveyors and Land Agents who offer a wide range of expertise in every aspect of rural property across the North of England, the Borders and South West Scotland. They provide a full range of professional services to property owners and occupiers covering not only farms and land but also commercial, leisure and residential interests.
Entries are now being taken for their next Public Auction which will be held on 14th March 2012 in the Shepherds Inn, Rosehill, and Carlisle. Anyone wishing to enter lots should contact Michaela Dixon, Property Sales Administrator on 01228 406260 or via email: michaela.dixon@hhbowe.co.uk.

Rare Opportunity to Buy Land in Lake District


Bonshawside Farm - Prime Scottish Livestock Farm on the Market


Wanted – Bright Sparks for Careers in Farming & the Rural Sector