The Effect of Reducing Cobalt Levels in Mineral Supplements
2011-01-21
Recent EU legislation has had the effect of reducing the level of cobalt in mineral supplements, both powder minerals and other dry goods products, including buckets, to a level that must not be 100mg/kg or more.
To help prevent a possible lack of vitamin B12 in the rumen the Denis Brinicombe Group is increasing the levels of vitamin B12 in their Tubbys to replace the reduced cobalt level.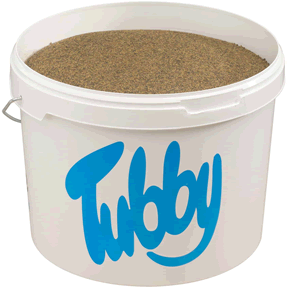 Overall the result has been that cobalt has been reduced to 25-50% of its originally designed level, which could have a detrimental effect on animal performance.
Cobalt is the essential component in synthesis of vitamin B12, which in itself is a vital element in breaking down proteins and the formation of individual amino acids which ultimately produce growth, muscle and milk. It is often known as the 'Growth Vitamin'.
Recent Irish research suggests that cobalt deficiency may directly affect the metabolism of rumen bacteria, which in turn may affect the digestion process. Florida researchers also reported rapid changes in the rumen microbial population of animals grazing cobalt-deficient forages.
More recently results of several studies suggest that cobalt may also improve fibre digestion in the rumen separately from its role as part of vitamin B12.
Research in 1992 reported that it was possible that a supplement containing higher levels of cobalt than that required for vitamin B12 synthesis could improve the utilisation of poor quality forages. As the rate at which fibre is digested in the rumen has a direct effect on the amount of dry matter consumed by the animal so increased levels of cobalt may boost the capability of bacteria to process fibre in the rumen.
It is therefore clear that a cobalt deficiency in ruminants leads to a vitamin B12 deficiency that can only be corrected with cobalt supplementation.
Although a cobalt requirement in the diet is relatively low a deficiency has devastating effects on animal health.
Sheep are more susceptible to a lack of cobalt than cattle. In sheep cobalt deficiency will manifest itself as poor growth rates in lambs, wasting away (Pine) and Twin Lamb Disease in pregnant ewes.
In cattle this will show in reduced milk yield, poor growth and performance even when fed on a seemingly good ration. Ultimately fertility will be impaired due to the association with cobalt and energy metabolism.
Poorly drained soils tend to lead to higher concentrations of cobalt in crops grown on these soils, while over-liming soils to increase the pH above 6.0 will reduce the availability of cobalt and may lead to a deficiency.
Now that there has been a legislated reduction in the cobalt in all dry mineral supplements, it is vital, if animal performance is to be maintained, that farmers ensure stock have access to the required levels of cobalt if a deficiency is to be prevented or is suspected or established following blood tests.
To help prevent a possible lack of vitamin B12 in the rumen the Denis Brinicombe Group is increasing the levels of vitamin B12 in their Tubbys to replace the reduced cobalt level.
The level of cobalt supplementation can be boosted at key times with products such as liquid trace element drenches, bolus' or capsules or, uniquely to the Denis Brinicombe Group, as slow release tablets for use in water troughs.
Research has shown that synthesis of vitamin B12 is dramatically increased within hours of cobalt supplementation in a deficient diet.
As little has been published about this reduction of cobalt in ruminant mineral supplements it is important that stock keepers are aware of the possible consequences of this legislation and quickly address any problems that they believe may be caused by a cobalt deficiency.

New Investment for UK Organic Feed Mill


New Lifeline From Rumenco


Ritchey Launches New Range of Nutritional Supplements for Livestock