John Deere's Flagship Sprayer Improved for 2011
2010-12-17
A new John Deere 5430i self-propelled sprayer with 36m boom will be seen for the first time in the UK on the company's stand (G30, Avenue B) at the LAMMA '11 show in January.
John Deere 5430i self-propelled sprayer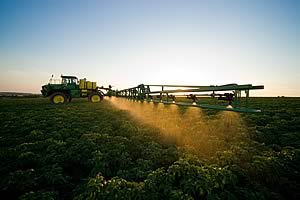 Over 100 5430i sprayers are now at work in the UK and Ireland, providing high levels of spraying performance and productivity. The company's European sprayer factory at Horst in The Netherlands has now started production of an enhanced machine for 2011, featuring new developments in spray boom suspension and application rate control.
A unique control system known as Boom Charge automatically increases pressure in the spraying system to optimise the application rate as the sprayer is switched on and accelerates away from the headland. This system minimises any under application that may occur, thus increasing overall spray accuracy, especially in areas where forward speed is changing rapidly, and providing much more even spray coverage.
Further design changes include an all-new boom centre frame and suspension, incorporating revised geometry for the folding cylinders, hinge points and anti-yaw system. This new arrangement increases the preloading on the anti-yaw dampers, while simultaneously reducing boom yaw travel.
In addition, new software for the BoomTrac automatic boom levelling and height control system has been introduced to take advantage of this new suspension geometry. Together, these developments have provided a further increase in boom ride performance, allowing the minimum height above the target to be consistently maintained even with wider booms and at speeds of up to 20kph.
Further details of the John Deere sprayer range are available from local dealers or by visiting the company's website at www.JohnDeere.co.uk

Horsch Launches New UK Division


Bauer Appoints UK & Ireland Sales Manager


Case IH Wins Gold and Silver Medals at SIMA Innovation Awards