Top UK-Bred Genomic Sire Joins Dairy Daughters Line-Up
2010-12-23
A UK-bred bull from what has been described as 'one of the hottest pedigrees on the planet' has been added to the Dairy Daughters Holstein sire line-up.
Windy-Knoll-View Pledge EX95(2) GMD DOM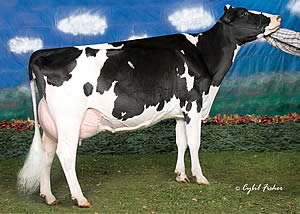 The bull is Willsbro Plasma, whose mother - Smiddiehill Goldwyn Pledge – was purchased at the Smiddiehill dispersal for a remarkable 50,000gns as a six month old calf in 2008. Goldwyn Pledge is a daughter of the top type and PLI (Profitable Lifetime Index) sire, Braedale Goldwyn, and the renowned US cow, Windy-Knoll-View Pledge EX95(2) GMD DOM, who has both Comestar Outside and Startmore Rudolph in her back pedigree.
She is not only one of the highest genetic index cows in the UK with a PLI of £183, but she also ranks amongst the elite on America's TPI (Type Production Index), which is considered to be an important international benchmark.
Goldwyn Pledge's son, Plasma, is the result of a maiden flush by Lylehaven Lightning (a Durham son), so has the further benefit of being an outcross sire in the UK.
"We couldn't resist investing in such a desirable pedigree," says Alison Lovell from Dairy Daughters. "Plasma's bloodlines will be very popular amongst British breeders and by offering him as a young sire with a genomic proof, they'll be able to get him at a far lower price than a comparable proven sire.
"There are very few UK-bred bulls which have been genomically tested as this currently requires the figures to be computed in the USA, so only those which show great promise have genomic figures.
"Having a genomic index increases reliability to 62 per cent in the case of Plasma, so breeders can use him with far more confidence than if his index was simply based on parent-average performance."
Features of Plasma's genomic index include 544kg milk, low cell counts and positive daughter lifespan.
Price is £16 as part of a 40 straw order and £14 as part of a 60 straw order.

Holstein Heifers Soar to Over 3000gns at Moira


In the Diary Single Launched by Simon Cow


Demise of Holstein Bull Van Gogh Leaves Semen in Short Supply