Farming Ladder Vital to Dairy Industry Success
2010-09-07
The Tenant Farmers Association will be using its presence at this year's Dairy Event and Livestock Show to emphasise the importance of the farming ladder and agricultural tenancies to the future success of the dairy industry.
TFA National Vice-Chairman, Stephen Wyrill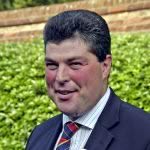 TFA National Vice-Chairman, Stephen Wyrill, said "In the past, the dairy sector traditionally provided a good opportunity for new entrants to enter the industry. With a regular, monthly income from the milk cheque, new entrants were able to service their borrowing requirements and provide a reasonable income for themselves. However, in recent times, with successive reductions in milk price, increases in production and regulatory compliance costs and a lack of landlords' investment in fixed equipment, the number of new entrants coming into the dairy industry has sadly diminished".
"Even for those keen to get a start, the number of opportunities available is also at an all-time low. It doesn't help that some County Council landlords, which have traditionally provided opportunities for new entrants, are either requiring the farms not to be used for dairying or are looking to sell them altogether. The recent decision of Somerset County Council to sell two thirds of its holdings is a major blow to the dairy industry in that strongly agricultural county", said Mr Wyrill.
"Our national milk production is in decline and we cannot rely solely on so-called 'mega-dairies' to pull us out of the mire. We need diversity in the production base to ensure that we maintain a reliable and secure supply of milk and milk products into the future. To do this we need new entrants and to have new entrants we need opportunities. Realistically only sufficiently long and flexible agricultural tenancies are going to be the source for those opportunities", said Mr Wyrill.
"The TFA's 2020 Vision for agriculture published in August provides a holistic approach to ensuring the vibrancy of the tenanted sector in agriculture and the major contribution that it will make to our future food and environmental security. We would encourage all policymakers, landlords and their advisers to consider carefully the vision we have laid out and the practical steps we have proposed to achieve it," said Mr Wyrill.

NML Reveals Unprecedented Increase in Somatic Cell Counts


John Alvis Elected RABDF President


Super Holstein Showcalf from Knowlesmere sells at The Northern Lights Sale