2010-09-06
United Oilseeds has announced that it will again be offering a minimum price contract for linseed in 2011 following a successful 2010 crop.
Linseed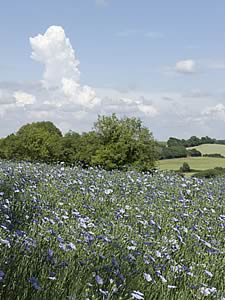 Linseed is predicted to be an important crop for arable growers in 2011, with forward values for harvest 2011 currently trading at around £300 per tonne, giving a gross margin of £423 per hectare. Linseed also offers beneficial agronomic advantages by helping to enhance yields of subsequent wheat crops by cleaning soil of weeds.
This is the second successive year that United Oilseeds has offered a minimum price contract. "A similar contract was offered to growers for 2010 harvested linseed," explains David Whyte, linseed trader at United Oilseeds. "We are pleased to be able to offer a minimum price contract again for the 2011 harvest, and can also offer growers access to Abacus, an early maturing linseed variety, at a very competitive price," he adds.
"The main benefit of this type of contract is that it allows growers to sow the crop in the knowledge that they have locked into a secure and competitive contract. By ensuring that the finished linseed crop is marketed to specific end users, we are able to achieve premium harvest prices for our growers," Mr Whyte continues.
"Linseed is a niche product with a relatively small market. As such the United Oilseeds price promise is limited to a specific overall tonnage. The area of linseed planted in the UK has increased from 40,000 hectares in 2009, to a predicted 50,000 hectares in 2011. Growers who are thinking of including linseed in their spring rotation therefore need to act quickly to secure a buy-back contract and to reserve the necessary volume of seed," Mr Whyte advises.
As well as offering a good return from investment, linseed has also attained the status of a cleaning crop that can help to reduce blackgrass problems. "Sowing a spring crop of linseed enables growers to fallow their land over winter," explains Richard Elsdon, technical manager at United Oilseeds. "This allows several germinations of blackgrass to emerge and be controlled by a treatment of glyphosate prior to sowing linseed in the spring. The following crop of linseed can also be treated using Avadex 15G which, despite having a relatively old chemical formula, is still effective in sensitising blackgrass and other broadleaved weeds to subsequent herbicide treatments.
"As with other oilseed crops, growers have been using glyphosate to aid the ripening of linseed for some years," Mr Elsdon adds. "This dries out the crop prior to harvest, but also removes any lingering broadleaved weeds and cleans the soil to the extent that wheat can be drilled into the lightly cultivated linseed stubble.
"The newly established wheat crop will benefit from weed-free soil and a total break from cereals. Long-term trials have shown that this can increase wheat yields by up to 17% compared to a continuous wheat rotation. This is in line with the yield increases produced after beans or fallow, but linseed has the potential to give a much improved gross margin," Mr Elsdon concludes.

Specialist Sprayer Nozzle Shown to Boost Early Black-Grass Control


Recommended List Results Pose Questions Over OSR Candidates


Electricity from Crops – What is it Worth?