New McCormick CT55U Expands Utility Tractor Range
2010-08-17
A two-year 'peace of mind' warranty is standard on the latest McCormick utility tractor – as well as an air conditioned cab with opening roof window.
McCormick's 47hp utility tractor – the CT55U – makes a handy machine for light field work with good manoeuvrability and an air conditioned cab.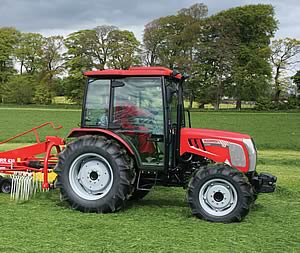 The 47hp four-cylinder McCormick CT55U has been to the range by distributor AgriArgo UK following a positive response to the launch of a 57hp version two years ago.
"The specification is pretty good for this size of tractor, not least the standard air conditioning in the roomy cab," notes Paul Wade, product specialist. "The 57hp model has attracted a number of different users in farming, horticulture and groundscare; the sister machine has a little less power, a simpler transmission and slightly smaller tyres – but also a keener price tag."
For £22,665, buyers of the McCormick CT55U get a four-cylinder Mitsubishi engine tuned to develop 47hp and a 16x16 synchro shuttle gearbox.
Hydraulically-engaged three-speed power take-off provides an economy setting for 540rpm at the shaft to save fuel, as well as 1000rpm for more demanding implements. A durable wet clutch is fitted – in contrast to most tractors of this size.
In other respects, the tractor is kept nice and simple – there is mechanical engagement of the diff lock and front axle drive, for example, because they are less often used on a tractor of this size.
Two double-acting valves should be sufficient to operate most equipment thanks to a 31-litre/min oil supply from the gear pump – likewise, the three-point linkage in terms of its 1500kg lift capacity.
The spacious cabin with its flat floor provides plenty of headroom, with a large door opening and side-mounted gear levers making it easy to get on and off. Good-size windows ensure the operator has clear all-round visibility.
Like its CT65U stablemate, the newcomer complements the cabless McCormick 'CT' series compacts, which top out at 47hp, the 'GM' series compacts that go to 54hp and the 74hp to 93hp C-Max full-size utility tractors.
"Both 'CTU' series tractors have a generous specification for their size and are built to handle serious work," says Paul Wade. "Whether used as a yard tractor on a dairy farm, as a workhorse machine on a horticultural unit or as an all-round power unit for larger 'hobby' farms and equestrian establishments."
As with all McCormick tractors, the new CT55U is delivered with the CESAR security identification system installed as standard to discourage theft.
McCormick CTU series tractors

Model

CT55U

CT65U

Engine make

Mitsubishi

Engine size

4cyl 2506cc

4cyl 2506cc

Power

47hp

57hp

Transmission

16x16

32x16 creep

Shuttle

synchro

synchro

Hydraulics - main pump*

36.4 l/min

37.5 l/min

Linkage lift

1500kg

1750kg

Linkage controls

draft, position, mixed

Power take-off

Independent hydraulic - 540, 750, 1000rpm

Cabin

Flat deck with air conditioning and opening roof window

List price

£22,665

£25,313

* separate steering and auxiliary systems pump 18.7 litre/min

Droplet Size Details Help Growers with Air Inclusion Nozzle Choice


John Deere Tractor Mowers are Just the Job


Case IH Enthusiast Uses His Race Car to Spread the Word