Rare Shetland Cattle Breed May Have a Role in Sustainable Food Production 2010-08-27
One of the Britain's rarest cattle breeds, the Shetland, could have a future role to play in meeting the challenges of feeding the world's human population over coming decades, according to SAC's Academic Director, Professor Geoff Simm.
Shetland cattle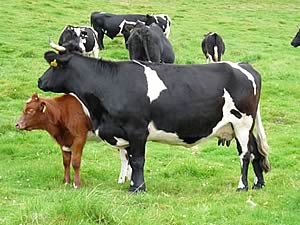 With a current population of only a few hundred registered cows, the breed is classified as 'at risk' by the Rare Breeds Survival Trust. But Professor Simm believes that a proactive approach should be taken to increasing the breed's numbers because its genetic attributes could prove valuable in achieving a sustainable balance between livestock production and direct human food production.
Commenting after taking part in the recent centenary celebrations of the breed in Lerwick, Professor Simm said: "Shetland cattle are small, and reputed to be hardy, breed early, be easy calving, and thrive on grass and forage. As pressure mounts over the coming decades for us to be able to feed more people using less resources, we have to work hard to ensure that we are using resources in animal agriculture that compete less with growing crops for direct consumption. Harnessing attributes of Shetland cattle and breeds with similar characteristics could be part of the solution."
Professor Simm, who attended the centenary celebrations in his capacity of Chairman of National Standing Committee on Farm Animal Genetic Resources says the current widespread use in agriculture of fewer specialised breeds, the spread of diseases and loss of genetic diversity in small populations all pose risks to the the future of rare breeds.
He stated: "We need to know more about the genetics of breeds like the Shetland and achieving this will become much cheaper in a few years, allowing us to read the full genetic sequence for individual animals. In the meantime, one of the best ways of protecting breeds at risk is to develop viable market outlets that will encourage an increase in their numbers."
Ian Pritchard of SAC Consulting's Veterinary Services also took part in the centenary celebrations, speaking about health schemes and their benefits to cattle breeders. He said: "The Shetland Isles are BVD accredited and are testing for other diseases through SAC. It is important, however, for breeders elsewhere in the UK to understand animal health and the opportunity that improved health status will give to breed viability."
Visit the Shetland Cattle Breeders Association website.

Northern Ireland Commercial Cattle Exhibitors' Club Show 2010


Elite Simmental Cattle Sale Tops at 12,000 Guineas


Oisin Murnion is New National Beef Association Board Chairman