All-Ireland Aberdeen Angus Championships 2010
2010-07-21
The Irish Aberdeen Angus Association has announced details of the Growvite All-Ireland Championships which take place at the 83rd annual Mohill Agricultural Show on Sunday, August 15.
Organisers of the Irish Aberdeen Angus Association All-Ireland Championships pictured with sponsor, Brendan Crowe, Tullivin/Univet; and Clement Gaffney and Ciaran Reidy, Lough Rynn Castle, who hosted the launch.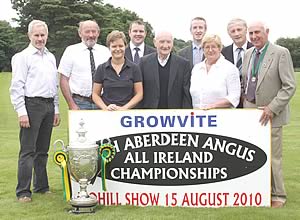 The event was launched in the idyllic grounds of Lough Rynn Castle on the outskirts of the County Leitrim town.
Lough Rynn Castle is situated in a 300-acre estate dating back to the early 1800's, and is the ancestral home of the Clements family. The third Earl of Leitrim, William Sydney Clements was known as Lord Leitrim, and he owned 96,000 acres of land throughout Ireland.
Owned by the Hanly Group, the Victorian Manor has been restored and extended in recent years, and now boasts 43 bedrooms and suites. Clement Gaffney of Lough Rynn Castle said:"We are delighted to host the launch of the All-Ireland Aberdeen Angus Championships."
The hotel's Sandstone Restaurant was awarded 'Excellence in Food' rosettes by the AA in 2009 and 2010. The well-established restaurant is the ultimate fine dining experience, and its Table d'Hote and A la Carte menus boast dry aged Aberdeen Angus beef". The hotel's head chef is Jean Michel Chevet and one of his signature dishes is fillet of Aberdeen Angus beef served with gratin potatoes and seasonal vegetables.
"In 2009 we spent almost 230,000 Euro on Aberdeen Angus beef, "explained Clement Gaffney. "Our demand for beef grew by 28% in 2010, mainly due to the increase in the number of wedding receptions we hosted.
"Aberdeen Angus is our first choice because of its consistency and quality. We source all of our produce from the local area and surrounding counties. The Aberdeen Angus beef is supplied by Kettyle Foods from Lisnaskea, County Fermanagh. The meat is fully traceable from field to fork, and is dry aged to our specific requirements to enhance the flavour and tenderness. "
The luxurious Lough Rynn Castle hit the headlines at the beginning of the July when it hosted a six-course banquet for 260 guests attending the society wedding of Ireland Rugby Captain, Brian O'Driscoll, and actress Amy Huberman, who stars in RTE's medical drama, The Clinic.
Discussing plans for the All-Ireland Aberdeen Angus Championships at Mohill Show on August 15, are, from left: Joe Keville, president, Irish Aberdeen Angus Association; Vincent Flynn, president, Mohill Agricultural Show; and Brendan Crowe, Tullivin/Univet, sponsor.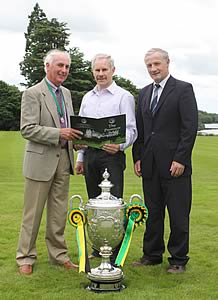 Organisers of the All-Ireland Aberdeen Angus Championships met with sponsor, Brendan Crowe of Tullivin Laboratories/Univet Ireland Ltd, Cootehill, County Cavan, who has been sole sponsor of the competition for more than 20 years. Mr Crowe said:"We have had a long association with the All-Ireland Aberdeen Angus Championships, and we are delighted to announce our continued sponsorship of this year's competition.
"The event attracts the cream of Aberdeen Angus cattle from throughout Ireland, and we are looking forward to a big entry of cattle and a successful show. The site for Mohill Show is lovely and should provide an excellent venue for this prestigious competition."
Judge for the event is former Aberdeen Angus Cattle Society president, Neil Massie OBE, who runs the noted Blelack herd based at Dinnet, Aboyne, Aberdeenshire. Mr Massie has had numerous Perth champions, and realised a herd record of 28,000gns for the 2004 supreme champion, Blelack Ellerman.
The prize fund exceeds 3,000 Euro, and the overall champion will receive a 250 Euro cash prize, a sash, an engraved Whiskey glass and the coveted All-Ireland Championship Cup, which is an exceptional piece of silverware dating back to 1902. The reserve champion will secure a 130 Euro cash prize.
Winners in each class will receive cash prizes ranging from 100 Euro for first prize, down to 20 Euro for fourth prize, as well as veterinary products provided by Tullivin/Univet. The schedule comprises of twelve classes, which includes two classes for young handlers – up to 17-years ago, and 17 to 25 years-old. Judging will commence at 11am.
Irish Aberdeen Angus Association president, Joe Keville, added: "I would like to take this opportunity to thank Tullivin/Univet for its loyalty and generous sponsorship over the years. We look forward to welcoming everyone to the All-Ireland Aberdeen Angus Championships at Mohill on August 15, and we hope that it will be an enjoyable and successful event."
Schedules for the All-Ireland Aberdeen Angus Championships are available from Irish Aberdeen Angus Association secretary, Kathryn Bradshaw on tel: (00353) 071 9632099 or email: irishaberdeenangus@eircom.net. Alternatively, contact Mohill Show secretary, Lourda McGowan on tel: (00353) 071 9631007. The closing date for entries is Thursday, August 5.

New Guide Shows Declining Global Beef Production


Elite Female Offering to Mark 40th Anniversary of Simmental Importation


SAC Gets Its Teeth Into Meat Eating Quality