John Deere Harvester Works Builds 500,000th Self-Propelled Combine 2010-06-18
John Deere Harvester Works (JDHW) recently rolled the half millionth self-propelled combine, a 9870 STS model, off the assembly line at the East Moline, Illinois manufacturing facility in the US.
A 514hp 9870 STS combine from East Moline, Illinois,
equipped with a 12-row corn header.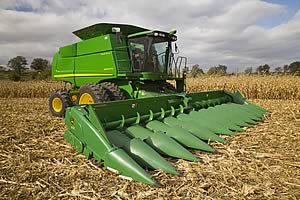 The factory first began producing binders in 1910 and broke ground on JDHW in 1912. The plant initially manufactured horse-drawn grain binders, mowers, rakes and corn binders. In 1927, John Deere introduced its first combine, uniting harvesting and threshing in one operation. Twenty years later, John Deere manufactured the company's first self-propelled combine.
"In the first 20 years the harvesting capacity of John Deere self-propelled combines doubled, and then again between 1980 and 2000," said Katie Dierker, JDHW division marketing manager. "Within the past 10 years, we've seen productivity nearly double again. This means farmers can get more done in less time, and more adeptly meet the world's growing food demands."
JDHW exports to over 35 countries and currently manufactures four models in its 70 Series range, as well as a complete line of front-end equipment and the S690 model sold in Europe. Approximately 2400 employees are employed at the factory, which includes the John Deere Product Development Centre in Silvis, Illinois.
In addition to East Moline, John Deere produces combines in Zweibrücken (Germany), Horizontina (Brazil) and Jiamusi (China), and has recently started to produce combine harvesters in Domodedovo (Russia).

McCormick Subcompact Tractor Can Tackle a Wide Range of Jobs


New from Kuhn at Cereals 2010


Kuhn Reinforces Sprayer Credentials at Cereals 2010