Yorkshire Big Breakfast Proceeds Assist Hard-Hit Farming Families
2010-04-09
Organisers of Yorkshire's annual Charity Farmhouse Big Breakfast have handed over a total of £4,462 to the ARC-Addington Fund, a national aid organisation that helps maintain the economic and social fabric of UK farming communities.
Pictured at the 2010 Yorkshire Charity Big Farmhouse Breakfast cheque presentation are, from left, Steven Crabtree, of Bolton Abbey, chairman of REAL Food and Farming, ARC-Addington Fund director Ian Bell, Christine Clarkson, of Bondcroft Farm B&B, Embsay, Dave Jones, Barclays' North of England agricultural manager, and host Christine Ryder.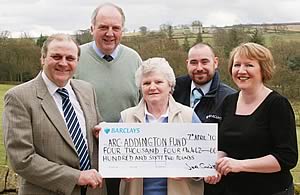 The 2010 event was staged over three days in January at Scaife Hall Farm, Blubberhouses, hosted by on-farm accommodation providers Chris and Christine Ryder.

It was organised and run jointly by REAL Food and Farming, which promotes and supports the Yorkshire Dales uplands and the communities and businesses that depend on them, and local members of Farm Stay UK, Britain's biggest network of farm-based accommodation providers.

A total of 164 farmhouse big breakfasts were served up, with Barclays Bank stepping in as main sponsor, coupled with support from local and regional suppliers and individuals.

The money raised goes towards ARC-Addington Fund's Strategic Rural Housing Scheme, which provides housing for farmers and their families who have to leave their farms for a variety of reasons.

Fund director Ian Bell OBE said: "In the last 12 months, we have invested £1.2 million in Yorkshire alone in support of farming families – for example, people finding it difficult to cope following a fatal accident at one end of the spectrum, through to assisting retiring farm tenants who require help through our shared equity scheme.

"Fund-raising of this nature is absolutely fundamental to our needs us and we want to spread the message to other farming families across the UK who may be facing similar problems that we are here to help them through their difficulties."

Meanwhile, Yorkshire Charity Big Breakfast organisers report that a venue has already been agreed for the 2011 fund-raiser – St George's Court B&B, Old Home Farm, High Grantley, Ripon, to be hosted by Will and Lindsey Hitchen.

New Livery for Ladies In Pigs


SAC Expertise Adding Value to Marks & Spencer Food Business


SAC Support for Farmers' Markets in Scotland