Ryedale Farm Succession Event
2010-02-02
The next in the series of information evenings tackling the challenges of passing on a farming business to the next generation has been announced.
Kate Dale, YRSN Co-ordinator with her herd of Limousins.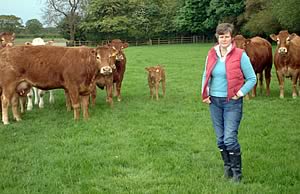 "Moving On – The Next Generation" is free, and takes place on Wednesday 24 February at 6.30pm and the venue is Kirkbymoorside Golf Club, Kirkbymoorside, York. The event is organised by the Yorkshire Rural Support Network (YRSN) and follows similar events at Skipton and Thirsk. The aim is to give practical advice on handing over the farming reins in the most efficient, equitable and amicable way. It is aimed at farming families, new entrants to the industry and business professionals.

Kate Dale, Network Co-ordinator said: "Handing over a farm to the next generation can be fraught with difficulties as for most farmers, it is an emotional as well as a business decision. The information evenings we have held previously have all been well attended and have provided much food for thought, so I would urge anyone who is interested to get in touch, or to just come along."

The evening will chaired by Raymond Twiddle of the Yorkshire Agricultural Society and speakers are: Peter Elwess of Cundalls Land & Property Agents, Stephen Watson of Moore Stephens Accountants and Emma Elwess of Pearsons & Ward Solicitors. The event is sponsored by the Health and Safety Executive and Lantra. Representatives from Farm Crisis Network, RABI (the Royal Agricultural Benevolent Institution and ARC-Addington, which all provide support to the rural community, are expected to be present.

It follows the publication of the Network's report in 2006 entitled "Succession Planning within Farming Families". The report highlighted the realities and difficulties of succession planning within the agricultural industry.

Kate can be contacted on 01423 546217 or email kated@yas.co.uk

Thurso the Latest Monitor Farm on SAC's Books


Auctioneer Bill is Top of the Class!


New Monitor Farm to be Shining Example