2010-02-18
Don't think the cold weather will have averted earlier yellow rust threats in winter wheat crops, growers are being warned.
As temperatures rise again, yellow rust will start to produce spores, growers are being warned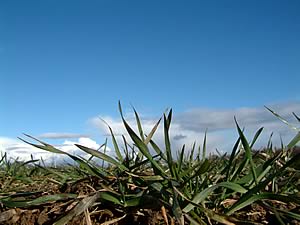 Reports of the disease after the cold snaps have already re-emerged in Kent, East Anglia and up into Lincolnshire and Yorkshire, says Syngenta field technical manager Chris Rowsell. Also as far west as Worcestershire, he adds.
His comments come on the back of reports last season of a virulent new race of yellow rust infecting wheat varieties. Data from Syngenta shows yellow rust can cut yield by as much as 6 t/ha.
"Two or three years ago we used to think three or four frosts would be enough to kill off yellow rust infections," says Mr Rowsell. "But we've learned a lot more since then. Last year we had very cold weather - colder than this year - and we still had yellow rust in March.
"In 2010, we've again picked a number of reports of the disease after the cold weather. As a rule of thumb, for yellow rust to die the infected leaves themselves must be killed off. But the snow we've had can act as an insulating blanket. As soon as temperatures rise to eight degrees centigrade again, yellow rust will start to produce spores."
In Lincolnshire, independent agronomist Sean Sparling has found yellow rust in six different wheat varieties recently. He believes early treatment will be needed to bring it under control.
"When we saw the snow we were all guilty of thinking the pressure was taken off a bit," says Mr Sparling. "But the inoculum is still there. I don't think yellow rust generally seems to be falling off.
"If you can see yellow rust in the crop you're going to have to get in and deal with it. A T0 fungicide is going to be critical. I'm anticipating T0 to be in the first part of March."
In addition, Mr Sparling says wheat crops are also full of Septoria. So he advocates a mixture of triazole against rust with chlorothalonil to protect new growth against Septoria tritici, and says he's had good results with the combined triazole and chlorothalonil fungicide Cherokee at T0.
"Three quarters of a litre per hectare of Cherokee stacks up money-wise. I've got on well with it in the past. But T0 is an extra; you've got to accept that. You don't want to cut back on T1. Neither timing nor dose at T1 should be compromised, and certainly not delayed by a T0 spray," he adds.
Further north, independent agronomist Andrew Fisher in Yorkshire has also been finding Septoria and rust.
"On some varieties there's the first sign of yellow rust," says Mr Fisher. "The cold weather may have simply delayed the onset of the epidemic. It's not going to go away.
"Use a triazole mixture, something like T0 Cherokee," he suggests. "If the weather delays me I tend to use a higher rate of Cherokee. It's pretty competitively-priced for what you get."
According to Chris Rowsell, suggested use rates for Cherokee in rust and Septoria tritici situations are 0.75 to 1.0 l/ha at the T0 timing, followed by a repeat dose of 1.33 to 2.0 l/ha of Cherokee applied at the April timing of T1.

BCPC Stimulates Multi-Pronged Approach to the Crop Protection Crunch


New Chief Executive for AHDB


New Trilogy Herbicide for Fodder Beet Weed Control