McCormick in Aberdeenshire and Angus
2009-Nov-12
An Aberdeenshire farm machinery dealership has 'come of age' by starting to sell new agricultural tractors for the first time.
Steven Greig (left) and David Gammie of Kirktown Machinery, Laurencekirk, the new McCormick sales, parts and service dealer for Angus and the southern half of Aberdeenshire.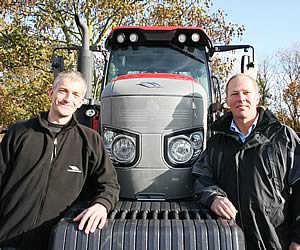 As a fully-fledged sales and service dealer for McCormick tractors, Kirktown Machinery at Westerton of Pitarrow near Laurencekirk, is set for expansion.
"Our machinery business started out servicing and repairing landscaping machinery, then graduated to supplying ATVs and compact tractors," notes manager Steven Greig, who has 18 years experience in the machinery trade. "Now, we're taking the business to the next level by supplying McCormick tractors and providing parts and service back-up."
David Gammie, one of three farming brothers who own the business, feels the time is right take the significant step of signing a major tractor franchise agreement.
"Being offered the chance to represent McCormick was too good an opportunity to miss; it's a prestigious, well-known name," he says. "We've built up a good farming customer base with the ATVs and the fact that Steven is getting plenty of repeat business shows we've established a good reputation for service."
Technicians Shaun Stephen and Glenn Ritchie keep customers' machines in good order in the workshop or on-farm using Kirktown's fully-equipped service van. Steven Greig manages the business overall and looks after the parts store and new machine sales in particular, while Sarah Scott keeps the office in order handling general administration.
Kirktown Machinery now looks after existing and new McCormick users in an area that extends north from Perth to Inverurie and westwards to Blairgowrie.
"We have predominantly arable farming in the eastern part of our territory and upland beef and sheep farming to the west, so the McCormick range, with its excellent mix of sizes, power and features, has something for everyone," points out David Gammie. "And as farmers ourselves, we know what's required in the way of back-up; we'll do our best to ensure Kirktown Machinery provides the level of service we expect for ourselves."
The McCormick line-up includes compact tractors from 23hp to 60hp, which will suit the company's commercial and domestic groundscare customers as well as some farming applications.
Then there is the agricultural range, starting off with the workmanlike C-Max from 74hp and culminating in the 225hp flagship TTX line, with a good choice of other four- and six-cylinder tractors in between.
"We're running an MC130 mid-range tractor as a demonstrator and have an XTX165 with the unique eight-speed powershift transmission on the way," says Steven Greig. "We had a CT28 compact too but that has already been bought, so we'll have to get another in for demonstrations!"

New Claas Nexos Fruit and Vineyard Tractor Range


Claas Elios - the Compact Tractor with a Big Appetite for Work


New Claas Xerion Tractor Tops 500hp