2009-10-16
United Oilseeds has reported a pre-tax profit of £1.03 million for its financial year ended 30 June 2009, as well as a 44% increase in the number of farm businesses that trade with the company.
Chris Baldwin, Managing Director of United Oilseeds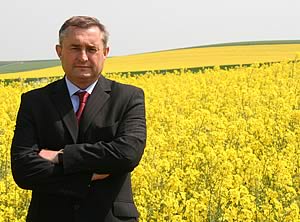 During the same period, the group's net worth grew by almost 5% to £4.23 million compared to £4.04 million the previous year. Turnover also increased by 34.5% to £54.6 million as a result of increased seed sales and an increase in the volume of crops being traded via the company's pool and fixed price contracts.

Farmer membership of the company, which is the UK's only specialised oilseed rape marketing company, rose from 2151 members in 2008 to 3100 at the end of June 2009.

Chris Baldwin, Managing Director said, "During the financial year ending 30th June 2009, members of United Oilseeds received a crop price that was significantly higher than that of our competitors. That success has translated into a notable increase in membership, with more farmers trading an increased tonnage of crops through our pools to mitigate the effects of price volatility.

"United Oilseeds has continued to go from strength to strength, with annual turnover increasing from £40.6 million in 2008 to £54.6 million in 2009. This has been due to an increase in the volume of ex-farm crops traded and increased seed sales, with the company's expanding seed portfolio attracting a significant amount of new trade."

"United Oilseeds also made its third consecutive annual profit share payment earlier in the year, returning £340,000 to members. That takes the total amount paid back to members to almost £1 million over the last three years."

Mr Baldwin continued, stating, "We will be announcing details of a fourth successive profit share later this year, which will be paid out to members in the first half of the next calendar year. The arable sector continues to face serious challenges from price volatility and rising production costs, but United Oilseeds is well positioned to safeguard the interests of its members. The significant growth in member numbers over the past 12 months alone is testament to the level of security that our ongoing trading performance provides," he concluded.

New BCPC Manuals to be Launched at Congress


Capitalise on Moist Conditions to Maximise Pre-Emergence Black-Grass Control


BCPC Congress to Address the Challenges of Feeding the World