Kirkby Stephen Prize Show & Sale of Store Cattle
2009-09-22
On Monday 21st September 2009 Harrison & Hetherington held their special continental cross Prize Show & Sale of Store Cattle.
Overall Champion with judge David Hetherington (left)
and vendor Nigel Hughes, Dona Close.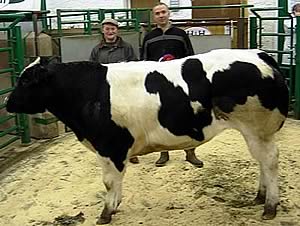 The pre-sale show was most ably judged by Mr D Hetherington, Staffield Old Hall with the Championship being awarded to a magnificent British Blue Cross steer consigned by W Hughes & Sons, Dona Close, Warcop which realised £1,070 to J E & G Burrow, Skipton. Standing in reserve was a terrific Blonde cross heifer consigned by J C & E Pedley & Son, Yore House, Lunds which later sold for £950 to D Barker. Trade throughout was buoyant with vendors delighted with prices received.
Cast cows also met with a good enquiry. Top price of the day being 137.5p for a 714 kg Blue Cow consigned by A M & H V Brown, Beechwood House, Newton le Willows. Continental cross cows regularly exceeded £800 whilst dairy sorts topped at 96.5p, £706.38 for W & C W Dent, Greenriggs, Kirkby Stephen
The Show was kindly sponsored by Dodd & Co, Chartered Accountants, the British Blonde Society and the British Limousin Society.
Awards
Belgian Blue cross Bullock
1st & Overall Champion winning the Stan Davis Perpetual Trophy
W Hughes & Sons, Dona Close - £1,070 to J E & G Burrow
Belgian Blue cross Heifer
1st F & A Atkinson & Sons, Hawkrigg - £850 to J E & G Burrow
2nd F & A Atkinson & Sons, Hawkrigg - £955 to J E & G Burrow
Limousin cross Bullock
1st & Reserve Champion Limousin S G Benson, Horrace Farm - £780 to J K Slee
2nd G D & A R Barningham, Hillside - £905 to R Jackson & Son
3rd F & A Atkinson & Sons, Hawkrigg - £775 to R Jackson & Son
Limousin cross Heifer
1st & Champion Limousin G D & A R Barningham, Hillside - £830 to J E & G Burrow
2nd M Watson, Blandswath - £835 to D & J Whaite
3rd M Watson, Blandswath - £835 to D Barker
Blonde cross Bullock
1st J C & E Pedley & Son, Yore House - £855 to J E & G Burrow
2nd W H & M Hutchinson, Uldale - £895 to R Jackson & Son
3rd R Balmer, Grassgill - £715 to D & J Whaite
Blonde cross Heifer
1st & Reserve Overall Champion
J C & E Pedley, Yore House - £950 to D Barker
Best Continental cross Heifer any other Breed
1st M/s. Brownrigg, Lane Farm - £835 to M/s. Dent
2nd A & R Birbeck, Pennine View - £575 to D Barker
Leading Prices
Cast Cows per kilo
Limousin 137.50 Beechwood House; 127.50 Pikestone, Asby Grange; 116.50 Ash Garth; 113.50 Blandswath; 102.50 Brow Farm
British Blue 128.50 Ash Garth; 124.50 Yore House; 107.50, 106.50 Bridge End (Brass); 106.50 Wythes Hill; 104.50 Bank Top
Holstein/Friesian 96.50 (x2) Greenriggs; 93.50 High Griseburn
British Friesian 95.50, 83.50 Bonnygate
Holstein 88.50 High Griseburn
Hereford 87.50 Hawkrigg
Cast Cows per head
Limousin £981.75 Beechwood House; £827.48 Asby Grange; £802.69 Ash Garth; £760.45 Blandswath; £669.38 Pikestone; £565.80 Brow Farm
British Blue £957.33 Ash Garth; £814.73 Wythes Hill; £776.44 Bank Top; £751.98, £690.53 Yore House; £713.55, £642.85 Bridge End (Brass)
Holstein/Friesian £706.38, £658.13 Greenriggs; £576.90 High Griseburn
British Friesian £683.78, £539.41 Bonnygate
Holstein £678.80 High Griseburn
Hereford £503.13 Hawkrigg
Store Bullocks
British Blue £1.070, £970, £855 (x2) Dona Close; £990 New Hall; £960 Arngill House; £930 Ravenseat; £905, £895 Argill House; £870, £855 Beechwood House
Limousin £905 Hillside; £880 New Hall; £865 Dona Close; £865, £860, £825 (x2), £805 Beechwood House; £825 Long Green; £820 (x2) Barugh House
Blonde Aq £895 Uldale Farm; £855 Yore House; £840 Hillside; £825 , £805, £720 Beechwood House; £735, £720 New Hall; £715, £695 (x2) Grassgill;
Charolais £885 Garnthwaite
Montbeliarde £550 Street House
Friesian/Holstein Friesian £438 (x3) Roans Farm
Store Heifers
British Blue £980, £960, £865, £770 New Hall; £955, £775 Hawkrigg; £800, £790, £765 (x3) Water Houses
Blonde Aq £950 Yore House; £675, £575, £570, £525 Grassgill; £620 (x2) Helbeck Grange; ; £480 Abbey Park
Limousin £855, £800 Water Houses; £850, £845 Long Green; £850 Hawkrigg£835 (x2), £795 Blandswath; £835, £805 Garnthwaite; £830 Hillside;
Charolais £835, £685 Lane Farm; £750 (x3), £740 (x3), £665 (x3) Helbeck Grange
Hereford £600, £570 (x3) Helbeck Grange
Store Bulls
Friesian/Holstein £370 (x6) Roseleigh

New British Angus Company Launched


NBA Welcomes TB Free Status for Scotland


EBLEX Reveals Headline Costs for Beef Producers