Brothers Head Pecking Order at Craven Feather Auctions
2009-03-18
Poultry-breeding brothers Andrew and Richard Gascoyne, of Wakefield, ruled the roost with a championship-winning trio of Buff Orpingtons at the annual Craven Feather Auctions Spring show and sale of over 1,000 poultry and waterfowl at Skipton Auction Mart. (Sat, March 10)
Brothers Andrew, left, and Richard Gascoyne, with their champion trio of Buff Orpingtons, joined by judge Linda Burn.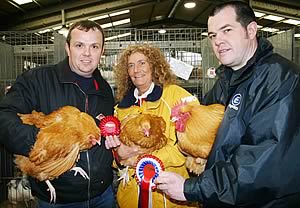 Their pen of free-range Orpingtons – a cockerel and two hens which started laying in January this year – were bred from the bloodline of top Orpington breeder and Panel B judge David Pownall, of Glossop, and sold for £100 to T Smith, Hebden Bridge.

"They were compact birds, with good strength of colour right through to the flesh," noted show judge Linda Burn, of Freckleton, Lytham St Annes, after picking the trio as top of the pecking order, having first chosen them as the best of the large fowl.

Linda, a member of Freckleton Parish Council and former mayoress of Fylde Borough, was returning to Skipton to adjudicate after securing the championship with a pair of Black Orpingtons at the Craven Feather Auctions Christmas show in December last year.

Reserve champions at the Spring fixture, sponsored by Skipton-based Philip Boland Trailer Training, were the first prize-winning trio of Silver Partridge Old Dutch Bantams from P & CJ Thomas, Burnley.

The best pen of waterfowl, a pair of grey Call Ducks, was shown by S Bray, Holmfirth.

Two exhibitors headed the selling prices at £110. Husband and wife poultry breeders Keith and Anne Chatburn, of Cononley, champions at the Craven Feather Auctions 2008 Spring show, sold a pair of Large Black Orpingtons to M Hart, Leeds. The couple also had the third prize pen of bantams.

Joint top price was also achieved for a pair of Gold Partridge Wyandottes from E Hinde, Oswaldtwistle, acquired by GC Marston, Wetherby, who also paid £100 for a pair of White Wyandottes from Alan Barnes, Great Harwood.

Craven Feather Auctions are staged to coincide with Skipton Auction Mart's ever-popular bi-monthly Agri-Trader Auctions of machines, reclamation and salvage, furniture, garden and general items of interest to farmers, collectors and the general public.

All take place on Saturdays – this year on May 30, July 18, August 29, October 17, November 21 and December 5, with two further Craven Feather Auctions prize shows scheduled at the August and December fixtures.


Debut Double at Skipton Spring Calves Show


Strong Demand at Skipton Prime Shows


Jennings' CCM Dairy Farmer of the Year Honour