John Deere Parts Training on Course for Success
16/03/09
John Deere's Parts Tech training programme is now well into its second year, with applications being invited for enrolment on the next course starting in September 2009.
Jon Kerley of VFM Associates (far right) assessing the Parts Tech students' gondola displays during their three day merchandising course at Langar. Adam Bannister from Burdens, North Kyme is second from the left.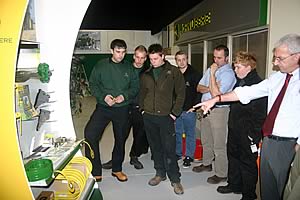 Launched by John Deere in partnership with Brooksby Melton College in 2007, Parts Tech is a specialist training programme for aspiring parts apprentices. It is run on similar lines to the award winning Ag Tech and Turf Tech apprentice engineering technician programmes, which have been running since 1992.
At a recent three day course on merchandising run by specialist training consultant Jon Kerley of VFM Associates in York, the latest intake of nine Parts Tech apprentices were asked to set up a gondola display using parts for combines, balers and lawn tractors (see photograph supplied). One of the students, Adam Bannister of The Burdens Group in Lincolnshire, completely reorganised the showroom at the dealership's North Kyme branch after attending the course.
"I was inspired by the course to make a complete change to our showroom layout, based on Jon Kerley's advice on how to catch the customer's eyes more effectively," says Adam, who joined Burdens from college as a parts assistant nearly two years ago. "Our regular customers have already noticed the change and made some very positive comments. The Parts Tech programme has been extremely helpful so far, and I'm looking forward to getting my parts technician qualification at the end of the course."
John Deere Limited's aftermarket sales manager James Morley adds: "The recent launch of the John Deere Place showroom concept has highlighted the importance of this area of the dealership's business. Dealers of the future will need to provide the best possible parts and service support to stay ahead of the competition. Parts Tech is designed to provide John Deere dealers with the opportunity to train their parts support staff to the same high professional standards as their service technicians."
To minimise time spent away from the sponsoring dealership, the 12-month Parts Tech training programme combines distance learning, work-based assessments and four one-week training blocks at Brooksby Melton College and at John Deere's Training Centre at Langar.
This all-round programme has been tailored to include specific parts training on John Deere business systems, as well as industry training requirements such as forklift truck operation and more generic skills such as merchandising and desktop publishing. Completion of the course leads to the award of the John Deere Parts Tech certificate and City & Guilds NVQ Level 2, which the whole of the previous year's intake of eight students has successfully achieved.
Further details are available from local John Deere dealers or from Brooksby Melton College – contact course tutor John German on 01664 855308 or e-mail JGerman@BrooksbyMelton.ac.uk

Case IH Dealer Oakes Landpower Reaches More Customers


New Kuhn Grass Machinery Developments for 2009


Herefordshire Farmer Wins Gold Key John Deere Gator