Top Living Holstein Bull for Locomotion Gets High Classification Score 17/03/09
Breeding company Cogent has this week clinched its fourth EX95 classification for a bull in its stud, putting the company far ahead of its nearest rival in the dairy genetics industry.
Cogent Loader daughter Catshead Burbois 16 GP83,
bred by BA Fallows, Staffordshire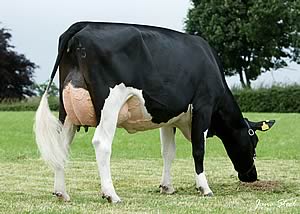 The animal which gained this score is Cogent Loader, a bull which has already earned a reputation as the number one transmitter of locomotion of all living British and international sires marketed in the UK, with a locomotion index almost off the scale at +3.41.
This means Loader transmits outstanding mobility as well as legs and feet to his daughters, but now the bull's own exceptional conformation has been independently confirmed with this EX95 score.
"All cattle breeders like to know the qualities a bull will transmit to his daughters but many also like to know that the bull himself is the real deal," said Hugh Pocock, sales and genetics manager with Cogent. "There's no doubt that Loader ticks all the boxes, being very stylish with plenty of strength and nearly every part of him is jet silky black – including a lot of black in his feet."
Type classification manager Meurig James from Holstein UK who scored the bull commented on why he is so outstanding. "He's just a tremendous, dairy bull with great dairy strength and depth of body," said Mr James. "He walks like a train and really moves on exceptional legs and feet for a bull of six years old."
Loader is also a high milk bull with a PTA (Predicted Transmitting Ability) of 736kg milk at 13.1kg fat and 15.1kg protein; he transmits outstanding udders (+2.35) and his Type Merit is an exceptional 3.07. It is such all-round performance which explains the bull's widespread popularity across a broad spectrum of dairy farmers.
Cogent Loader EX95 is now available through Cogent as sexed as well as conventional semen.

Moonshine Brightest at Knockenjig Ayrshire Sale


Ten Per Cent Increase in NMR/RABDF Gold Cup Qualifiers


Genomically Proven Shottle Son Now Available in UK - Regancrest Shottle Ian