Official First for John Deere StarFire Technology
09/02/09
John Deere's StarFire iTC dGPS satellite receiver is the first of its kind to obtain official certification by the German technical institute TÜV (Technischer Überwachungsverein).
The StarFire iTC receiver can be mounted on ISOBUS
compatible implements to perform passive automatic guidance
with trailed equipment.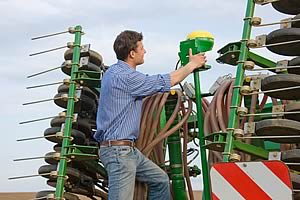 The certification document has been issued by NavCert GmbH, an independent subsidiary of the TÜV testing network. This confirms the StarFire system's ability to perform reliable surface area and positioning measurements with signal accuracy levels of 20 to 30cm (SF1), 5 to 10cm (SF2) and 2cm, repeatable (RTK).
This independent approval of John Deere's StarFire receiver, which can be flexibly mounted on (and moved between) tractors, combines, foragers and self-propelled sprayers, offers a new level of quality assurance to customers looking to invest in automatic steering systems, field recording and crop documentation solutions, and vehicle telematics applications.

Air Conditioned Cab Features on McCormick CT65U Utility Tractor


Claas Mowing Flexibility with New Centre Swivel Mowers


New Quartet of Triple Mowers from Claas