The Dairy Event and Livestock Show 2009
11/11/08
The Dairy Event and Livestock Show 2009 will be staged by its organisers, the Royal Association of British Dairy Farmers at Stoneleigh Park, Warwickshire on 16 and 17 September.
2008 Supreme Champion Riverdane Astro Romance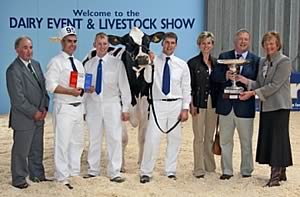 Plans are to build on the 2008 relaunched event's success and offer a comprehensive technical, business and financial information for the entire UK ruminant sector.

While dairying will continue to remain at the heart of the business to business event, it will once again feature activities specifically dedicated to beef, sheep and commercial goat producers, together with those farming commercial native breeds. In addition, practical working demonstrations, specialist diversification and technical exhibitions, together with several new initiatives designed to reconnect the entire food chain, will combine to offer a one-stop service for all livestock farmers from throughout the UK and beyond.

HSBC's head of agriculture, Pat Tomlinson said: "At HSBC Bank, we look forward, once again as Principal Sponsor, to working with RABDF to make sure the 2009 show continues to build on the undoubted success of previous events and delivers all that farmers, their suppliers, customers and advisers will expect of it by next September."

To avoid a clash with other overseas events, Dairy Event and Livestock Show 2009 has been rescheduled from 23 to 24 September to 16 and 17 September.

Science for the Future Conference


Cattle Handling Clinics at English Winter Fair


Walkabout GPs to Give Farmers Free Health Check