World Combine Harvesting Record Smashed in the UK
25/09/08
A new Combine Harvesting World Record of 532.14 tonnes harvested in eight hours has been set by a tracked CLAAS LEXION 580+TT combine working in Lincolnshire, England.
The LEXION 580TT passed the previous record of
451 tonnes in 8 hours after just 6 ¾ hours, and went on to harvest 532.14 tonnes in 8 hours.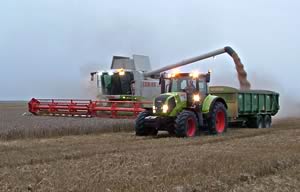 The new record comfortably beats the previous record of 451.2 tonnes set earlier this summer, which was passed after just 6 hours and 43 minutes. Equipped with a 10.5 metre cutterbar, the LEXION 580+TT, which is powered by a 517hp Mercedes engine, achieved an average throughput of 66.5 tonnes/hour over the eight-hour duration, with a recorded peak of 91 tonnes/hour at 18.39pm. On average, despite chopping the straw, the combine consumed just 1.35 litres of fuel per tonne harvested – equivalent to 15l/ha.

The successful record attempt on Tuesday 16th September was organised by farming company Farmeco, who had previously set an unofficial record of 1,000 tonnes in a day in 2003, and was achieved with the assistance of Kevin Yates of Winterquay Farms and CLAAS dealer Marsh.


Keith Challon (centre) and Kevin Yates receive
the record certificate from Carlos Martinez of
Guinness World Records (right).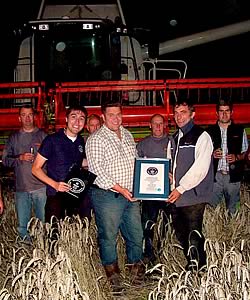 Authenticated by Carlos Martinez from Guinness World Records, assisted by independent mechanisation expert Bill Basford, the record was staged at Heckington in Lincolnshire in a 200ha block of Alchemy winter wheat, in conditions that were grey and overcast. All machine configurations and settings, including the crop losses and engine installation, were verified by Carlos Martinez and Bill Basford, and the tonnage was checked over a weighbridge.

Over the eight-hour period, a total of 47.7ha (117.8ac) was harvested from six fields in three separate blocks, where yields averaged just over 11 tonnes/ha with peaks of over 12 tonnes/ha.

The Hectolitre weight remained consistent at around 74 throughout the day, with moisture content starting at 17.4% and dropping to 16.5% by late afternoon. In addition, Bill Basford also monitored cracked grains to ensure they remained at an acceptable level, and measured grain loss as being no more than 0.5%.
The crop height measured between 60.96cm and 63.5cm, and all the straw was chopped and spread with the chaff through the Power Spreader.
An analysis of the record on the internet-based Telematics system shows that during the first two hours, the LEXION 580+TT combine was actually running at over 70 tonnes/hour before easing back to around 64 tonnes/hour for three hours, and then increased up to around 70 tonnes/hour for the last few hours.

"When I saw the reports of the previous record, I knew it could be beaten, as we have the crops in the UK and the machinery to do it. There was never any doubt in my mind," comments Keith Challen of Farmeco. "This is the latest we have harvested in 20 years, and after a very difficult harvest, it is nice to finish on a high and make harvest 2008 memorable for the right reason!"

CLAAS Launch New Scottish Based Apprenticeship Training


New McCormick TTX and XTX Tractors Take to the Field at Normac


Another Five Dealers Providing McCormick Sales and Service