John Deere Expands Plans to Increase Production of Large Tractors 03/09/08
Deere & Company said this week it plans to further expand manufacturing capacity of its large, high horsepower tractors – adding to a project announced earlier this year for facilities in Waterloo, Iowa.
John Deere 9020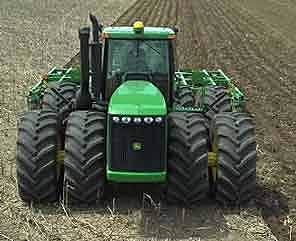 Deere said the investment will help the company meet its expectations for market demand worldwide in coming years.

Deere said the new initiative will invest approximately $97 million in areas that are core to the business and offer a competitive advantage, such as the Waterloo foundry, engine and drive train operations.

An addition of an estimated 103,000 square feet will be added to the drive train operation in Waterloo and part of the total investment will be spent on improvements at a John Deere plant in Coffeyville, Kansas, where Deere builds transmissions and other drive train components.

"John Deere customers around the world are investing in the improved productivity delivered by these technologically advanced machines," said David Everitt, president, agricultural division - North America, Australia, Asia and Global Tractor Sourcing. "John Deere is investing to help ensure that we have the manufacturing capacity to meet this demand for John Deere products."

The project announced today is in addition to the investment of approximately $90 million that Deere had announced in March to increase manufacturing capacity at the Waterloo, Iowa facilities. In combination, the projects will increase John Deere's manufacturing capacity to build high horsepower tractors in Waterloo by about 40 per cent and increase capacity for other tractor components and service parts. The company said both projects are expected to be complete by early 2010.

Tractors built in Waterloo are exported to more than 130 countries and are highly popular with the most productive farmers and growers in North America.

Deere to Invest in Manufacturing Capacity, Parts Operations in South America


New Value Line Compact Tractor from John Deere


Case IH Wins in China