Deere to Invest in Manufacturing Capacity, Parts Operations in South America 02/09/08
Deere & Company announced this week that it will invest approximately $80 million in its agricultural manufacturing and parts distribution operations in Brazil to increase manufacturing capacity for both tractors and combines as well as to improve service to customers.
John Deere T Series Combine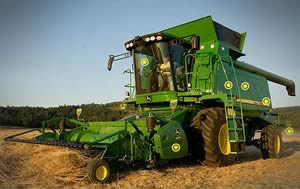 The company said the investments were being made in its combine and planter factory in Horizontina, its tractor factory in Montenegro and for the development of a new parts distribution centre in Campinas.

"South America is an important market for John Deere," said Mark von Pentz, president, agricultural division - Europe, Africa, South America and Global Harvesting Equipment Sourcing. "These investments will assist Deere as we continue to enhance our market position in this important region."

The investments will allow Deere to increase manufacturing capacity by approximately 35 per cent in its Horizontina and Montenegro factories. The funds will improve manufacturing flexibility, optimise the use of assets and improve aspects of the factory layout and assembly lines. Investments will also assist suppliers to improve capacity and logistics.

The projects also include creation of a parts distribution centre to improve service to the company's growing dealership network across Brazil and other parts of South America.

All projects are expected to be substantially complete in 2009. They add to Deere's recently announced series of actions to meet the continued worldwide demand for agricultural equipment, including additional manufacturing capacity in Waterloo, Iowa, for high horsepower tractors and in East Moline, Illinois, for combine harvesting equipment.

New Value Line Compact Tractor from John Deere


Case IH Wins in China


CLAAS Increase Output Potential on High Capacity Combines