John Deere to Increase Manufacturing Capacity for Harvesting Equipment 09/06/08
Deere & Company announced that it is investing approximately $35 million to increase manufacturing capacity by 30 per cent for combine harvesting systems produced at the John Deere Harvester Works in East Moline, Illinois, USA.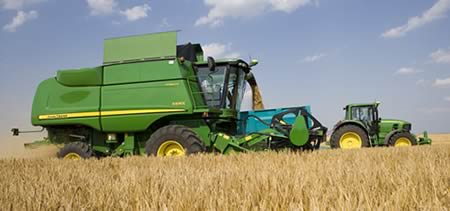 "This initiative will help John Deere to meet the growing worldwide demand for large combines," said Markwart Von Pentz, President, Agricultural Division – Europe, Africa & South America and Global Harvesting Equipment Sourcing. "Global acceptance of the innovative STS (single tine separation) combine technology is a key driver in our decision to increase the manufacturing capacity of John Deere Harvester Works."

The investment will include machine tooling and fixtures, improved work processes and improvements to the existing paint system. The project is expected to be completed in early 2009. Earlier this year, Deere also said it was investing in its Waterloo, Iowa facilities to expand manufacturing capacity for large, high horsepower tractors, as worldwide demand for agricultural equipment continues to be strong.

New Holland Top Service at Grassland and Muck


New Holland's Grassland and Muck Demos Run on Biodiesel


New Pressure Recirculation for John Deere Sprayers