Exotic Breeds Sale Big Draw at Borderway
19/04/08
A hugh audience was drawn to the exotic breed sale at Borderway, Carlisle, when specialist auctioneers Harrison & Hetherington Limited brought under the hammer a selection of Mediterranean miniature donkeys from Southern Ireland, Alpacas from local breeders in Cumbria and a dispersal of Llamas from Aberdeen.
Mediterranean Miniature Donkeys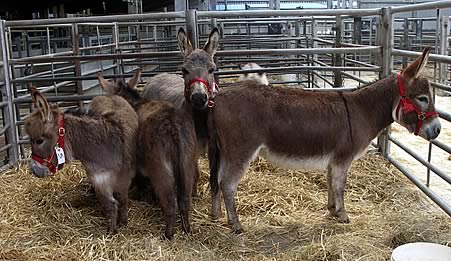 Breeders and enthusiasts travelled from as far south as Dorset and Cornwall, to as far north as Aberdeen and across from Northern Ireland.
First to enter the auction ring were the Mediterranean miniature donkeys from the Red Oak herd based in Gorey, Ireland. This is the first time in the UK that Mediterranean miniatures have been auctioned which proved to be a great success with seven lots selling over the 3,000gn mark.
Selling for the top price of this consignment at 4,600gns was Prairie Brae April Mist an original Canadian imported 33" grey jennet. She is a daughter of the noted Circle C Bear Essential and her mother is a daughter of Circle C Desperado. She sold in foal to Old West Limited Edition, a Canadian Champion, and due for June. Her new home is in Gloucestershire for Mr R Overthrow of Woodland View, Newent.
One of the stars of the sale sold for the next leading price at 4,200gns. Circle C Annalise is sired by the multiple Canadian prizewinner Circle C Legend and bred from LN Circle C Anna who is one of the top jennets at Cooke Livestock. Annalise sold bred to LN Dark Void for a late June foal, and goes to north east enthusiast, Alder Bradford of Knitsley Mill, Co.Durham.
Two lots sold for 4,000gns, the first was lot 1 into the sale ring Cyders Ruby Queen an attractive dark red jennet. Her breeding on the sires pedigree carries the great Foxworthy line and her mother is a daughter of the brown Sunset Acres Tuffy jack. Ruby Queen travels south into Dorset for Mandy Baughan of Crist Church.
Mandy Baughan also secured the second entry to sell for 4,000gns. Circle C Miss Ellie, a daughter of the 1999 Grand Champion at the World Miniature Donkey Show MGF Future Link, and bred from a daughter of the 29" grey dun Desperado sire. Miss Ellie is just turned 3 years old and is ready to breed.
The next consignment to enter the sale ring were the Alpacas from Alpacas of the Lakes and Lakeland Alpacas who are based local at Eden Park, Renwick, Penrith.
The top price from this entry were three lots all reaching 1,800gns. The first lady to enter the ring was Paradise Lady Helen a 7 year old solid mid brown daughter of Blackmore Vale Rupert. She joins the Whitestonecliffe Alpacas of MT & JM Fowler-Jones & Ptrs at Thirsk, N.Yorkshire.
Whitestonecliffe Alpacas also purchased at 1,800gns Paradise Cora a dark brown female.
The third lot to sell for 1,800gns was Paradise Valantina a fawn appolosa daughter of Meadowsweet Barnaby. She was purchased by Pauline Robson of Lanarkshire.
A white female, Larchfield Mavis of Paradise, sold for 1,700gns and was knocked down to Bruce Kemp of Lochmaben, Dumfriesshire, who also purchased at 1,600gns Paradise Lady Shea a solid black female.
Following the sale of Alpacas was the dispersal of Llamas from the Rowett herd based at Bucksburn, Aberdeen.
Highlight of the sale was one of the favourites a yearling female called Toffee. A daughter of the herd sire Khan and bred from Amy, Toffee sold for 1,100gns to John Irving of Jedburgh, Roxburghshire.
Following at 620gns was Topsy, another yearling female and a daughter of herd sire Jude and out of Marmalade, she now travels to Cornwall for Brian and Jane Gray of St.Ives.
Tipsy attracted the next leading price tag at 520gns. Another daughter of Jude and bred from Lola who had sold earlier, Tipsy also sold to Brian and Jane Gray of Cornwall.

New Chief Executive for Borderway


First Full Accoyo Suri Alpaca Herdsire Arrives in Texas


British Blonde Cattle Spring Sale at Carlisle 2008