New Manager for Cumbria Farm Link Team
20/11/07
Nancy Tweddell has moved on from her role as Cumbria Farm Link Manager.
Nancy Tweddell & Harry Martin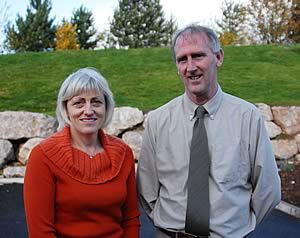 Her departure marks 11 years of work with Cumbria's farming and rural communities on a number of funding initiatives run under the umbrella of Cumbria Rural Enterprise Agency, based at Redhills, near Penrith.
From Monday November 12 the Cumbria Farm Link team will be managed by former Newton Rigg college agricultural lecturer Harry Martin who has been the farm advisory team leader at CREA since September 2004.
The current well known Farming Connect Cumbria programme draws to a close next year after injecting almost £7.5 million of capital as well as technical advisory work into the county's farms since its inception just over three years ago.
"I am very pleased with the programme and what we have achieved," said Nancy, "It has been very worthwhile.
"Through the scheme, working with as many as 1,500 farmers, around half of whom have been awarded grants, we have developed a central contact point for the farmers, who recognise and respect us for what we do.
"As a result, we have also developed a large network of contacts which we can put farmers in touch with. This 'hub' is very much needed in Cumbria both now and for the future."
Nancy, whose family farm is near Hesket Newmarket, began working with the industry as Cumbria Farm Link manager in January 1997, handling the Objective 5b area programme giving environmental and business advice as well as capital grants which over its four years provided £2 million in funding.
Research carried out in 1999 identified gaps in funding which in turn led to the establishment of Farming Connect Cumbria through financial support from Rural Regeneration Cumbria following 2001's foot and mouth epidemic.
Nancy and Harry have worked with a team of around 30 advisors and three part-time administrative staff under the umbrella of CREA, which has supported the programme's vital systems and processes.
Projects awarded capital grants have ranged from slurry stores to sheep pens to water recycling systems to milking parlours, at an average grant rate of 37 per cent.
"We feel that we have achieved what we set out to do – to help farmers think about and plan their future, and to provide funding for what they really need to keep their businesses viable and strong.
"Grants have been awarded through a rigorous process involving independent assessors, a grant panel and, if necessary, an appeals process. Some applicants have been turned down, which has been difficult, but it has been right because the grant would not have helped the business move forward. And some decided themselves it was wiser not to go ahead at present."
Careful management of the programme's finances has recently enabled the release of further funding for small grants of up to £2,500. All work will have to be finished and the money paid out before FCC's conclusion in the early summer of 2008.
Any future funding is likely to focus on improving "carbon awareness" and resource management, as well as energy efficiency on farms, and CREA have recently contracted ADAS to carry out a pilot scheme involving 20 farms in the county looking at these issues.
Bob Clark, CEO of CREA, said "Cumbria Farm Link is real success story, helping very many farmers. We are sorry to see Nancy leave and wish her every success in her new role."
Harry Martin has worked closely with Nancy since the programme began. When he left Newton Rigg after 31 years at the college he was head of the agricultural department.
Nancy Tweddell takes on her new challenge as a project manager for the North West Development Agency's Rural Development Programme for England, based at Gillan Way near Junction 40 in Penrith.

Jo's Passion for Dexter Beef and Shetland Lamb


Investing For a Future in Dairy Farming


Investing in the Oxford Down