McCormick CX Auction Bids Hit New High - Ends 6th November
29/10/07
Bids to purchase one of McCormick's most historically-significant tractors – the last CX model to be assembled at the Doncaster factory in South Yorkshire – have hit a new high just a few days ahead of the 6th November deadline.
The final McCormick CX to be assembled at the company's Doncaster plant - the range is now built in Italy - features prominent Union Jack bonnet and roof decals.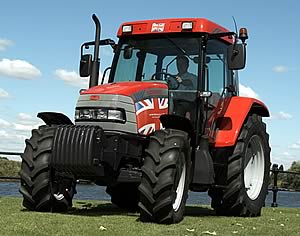 The latest bid – from Scotland – is for £31,199.
"Bidding was quite slow at first; I suppose enthusiasts keen to buy the tractor have been keeping their powder dry," says Martin Browne of McCormick. "But things are hotting up now and there's been a flurry of new bids."
The specially-prepared CX105 XtraShift is turned out in McCormick's new red, silver and grey livery with special Union Jack flag decals celebrating its status. Those covering the bonnet side panels proclaim:
The final British-built CX – July 2007
Doncaster – Driven with Pride – 1946-2007.
The popular CX range is now being assembled it Italy at the headquarters factory of the ARGO Group, McCormick's parent, so the full selection of 84hp to 102hp models will continue to be available.
The CX105 is McCormick's best-selling individual model in Britain and the example that completed the Doncaster production run is built to the top Deluxe XtraShift specification, complete with air conditioning.

New John Deere 6030 Series Tractors Broaden Customer Appeal


Fendt Tractor Runs on Rapeseed Oil


New McCormick Tractor for Hadlow College