Skipton Auction Mart Announces Future Plans
19/09/07
Skipton Auction Mart is to stage a slaughter-only sale of prime beef and lambs on Monday (Sept 24) following the easing of foot and mouth restrictions in parts of the country.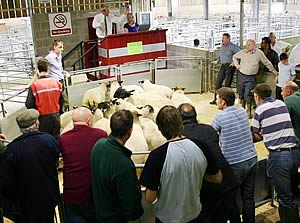 While all non-slaughter stock shows and sales remain suspended, Defra is currently allowing animals to move through collection centres, red markets and direct from farm to slaughter.

Auction mart general manager Jeremy Eaton explained: "We have adopted the slaughter-only route as it allows some of the backlog of stock to be moved for hard-pressed farmers.

"However, this situation remains far from ideal as the continuing ban on carcass exports will cause very depressed prices."

Mr Eaton stressed that limited numbers of entries in each class would be accepted for Monday's sale, with a requirement that all stock must be pre-entered by contacting the mart on 01756 792375 or staff on their mobiles over the weekend.

He added: "Regarding future arrangements, we have no option but to take things a day at a time at the moment, though we will do our best to reschedule shows and sales once we are in a position to do so.

"In the interim, we are urging farmers to continue to make their entries for future sales, as any further cancellations will be confirmed nearer the time of each fixture.

"We are also compiling a register of all prime, store and breeding sheep, including breeding rams, and are making provision to enable farm-to-farm transfer of these animals if the easing of restrictions allows this type of movement instead of gatherings of livestock.

"We are still appealing to farmers to contact us with details of any stock to sell and enquiries for purchasing."

Latest developments will be posted on the Skipton Auction Mart website at www.ccmauctions.com

All shops and businesses at the auction mart site are opening as normal, with the café operating between 8.30 and 2.30pm Monday to Friday.

Sheep Flock Back in Force at Skipton


Records Fall as Craven Dairy Auctions Resume


Pedigrees to Take Centre Stage at Skipton