New Landini Tractor Dealers in Wales
03/09/07
Three agricultural engineering firms in Wales have taken the first step towards expanding their businesses by signing up to a new Landini tractor franchise.
Landini Alpine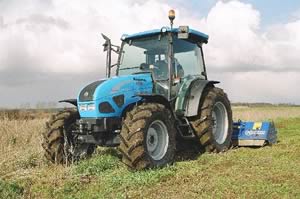 Aeron Valley Tractors, run by Stephen Willis, at Talsarn near Lampeter, Ceredigion; John Griffiths, whose Drope Farm Workshop is at St Georges near Cardiff; and Philip Roberts of P R Roberts Agricultural Engineering, based at Boduan near Pwllheli on the Lleyn Peninsula, are now representing Italian tractor manufacturer Landini.
All are selling new tractors for the first time and will use their parts and service expertise as farm implement retailers to look after the tractors they supply to local farmers.
"I've been servicing and repairing tractors and farm machinery for nigh on 25 years, supported by my wife Cheula who looks after administration," says John Griffiths. "Supplying tractors is a new venture, although we already have something of a track record, having supplied half a dozen Landini tractors over the past 18 months sourced from a neighbouring dealer."
It was the performance and reliability of those machines that gave John the confidence to go a step further and become a tractor retailer in his own right.
"The farmers we've supplied have been pleased with their machines; I expect the 60-100hp Landini Vision and Powerfarm models to be most popular," he says. "Also, we have a good trading area across south-west Wales, roughly between Bridgend and Chepstow to the east and south from the Head of the Valleys road that runs from Merthyr."
Stephen Willis will cover south-west Wales from his base at Talsarn near Lampeter.
"Having worked for my parent's tractor dealership, I've been brought up in the tractor and machinery business, so I know how important it is to have the right product and provide the right service," he says. "I feel very comfortable with the Landini range – it covers everything from compact tractors to big arable machines. The reaction from customers to our appointment as a Landini dealer has been very positive."
Stephen's girlfriend Alix Arndt looks after administration at Aeron Valley Tractors, while Guy Skewis handles workshop servicing and repairs. Efion Davies and Stan Tear are other members of the team.
Being part of a farming and contracting family has given Philip Roberts a good grounding in tractors and machinery, experience he plans to put to good use with his Landini tractor franchise.
"I've been selling new machinery and second-hand tractors for some years," he says. "But good used tractors are harder to find these days and I decided it was time to move up to selling new ones."
Covering north-west Wales from his base at Drws y Nant, Boduan five miles north-west of Pwellhi, Philip's P R Roberts Agricultural Engineering business already has a number of leading implement franchises, which will be complemented by the Landini tractor range.
"The Landini Vision and Powerfarm tractors are ideal for this mixed farming area – there are basic as well as well-equipped models and they are easy to service and repair; just what stock farmers want," he says. "But the bigger models like the Landpower and new Powermax should appeal to contractors and larger farms, especially those growing arable crops."
John Evans is on-hand in the workshops for machinery servicing and repairs, while Philip's wife Awen is the voice on the end of the telephone in the office. Living on the premises means there is always someone available to get an urgently-needed tool or replacement part from the stores.
The three dealers will each have a 99hp Landini Vision 105 tractor as a demonstrator to give farmers the opportunity to try one and see for themselves what the blue tractor range has to offer.
The Perkins-engined machine also comes in 82hp and 92hp versions, complete with a 15x15 synchro-shuttle or 30x30 power-shuttle gearbox and choice of mechanical or electronic control of the three-point linkage.
A standard cab roof window emphasises the Vision tractor's suitability for use with one of Landini's hydraulic loaders.

John Deere Scholarship Boosts Harper Adams Student Careers


Dairy Event Attracts Record Farm Tractor Exhibits


Claas Tucano Combine Harvester Brings Versatility


New Twin Rotor Central Delivery Rake Available from Kuhn