Beef Import Record of Major UK Supermarkets Revealed
23/07/07
It is not often that supermarkets receive praise from farming organisations, but today the National Beef Association is singling out Morrison's and Tesco for their on-shelf commitment to British beef.
NBA chief executive, Robert Forster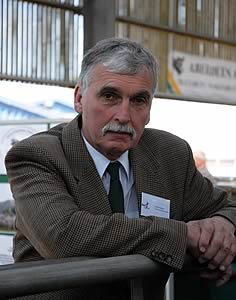 According to the latest Taylor Nelson Soffres (TNS) retail survey data, 97-98 per cent of the fresh beef sold through Morrison's since January 2006 has been British, while Tesco, often thought of as the bad boy of British supermarkets, has a much better record than others - with 85-96 per cent of its fresh beef sold over the same period purchased from UK sources.

Unfortunately for the majority of consumers who want to buy quality British beef over one third of Asda and Sainsbury's beef is imported – the bulk of it from the Irish Republic.

More precisely in the four weeks ending June 17th this year over 56 per cent of fresh beef sold through Asda was imported which means less than 44 per cent was British.

And over the same May-June period almost 30 per cent of fresh beef on Sainsbury's shelves was Irish with over four per cent imported from elsewhere.

"The fact that Morrison's and Tesco are each operating a Britain-first purchasing policy, and using imports only as a top-up, at a time when British farmers are trying to adjust to a world without subsidies is encouraging," said NBA chief executive, Robert Forster.

"Asda also appears to be switching its stance on taking the lazy option on imports and has recently announced that it is expanding its "Buy British" policy on beef. Indeed, it has predicted a 12 per cent increase in British beef purchases over 2008 to supply its highest retail price ranges. This has to be welcomed as a much needed step in the right direction although more British product must still be used to service Asda's standard sections."

"This leaves Sainsbury's, which appears wedded to commodity conveyor belt principles, still to act and commit to giving its customers more opportunity to buy home produced beef. The British beef industry can no longer live on fine words. Actions are what count."

"An immediate and major show of support by Sainsbury's would be to commit to helping their customers to make informed choices by ending the practice of mixing meat of different origin on shelf. Not only would the ending of co-mingling send a positive signal to British farmers, it would also help retailers understand the depth of consumer support enjoyed by British beef which at present it appears determined to ignore."

Pressure on Brazil's Beef Export Compliance Beginning to Tell


Supermarket Opportunity to Lift Price of Beef


Are Beef Importers Putting Pressure on UK Prices?