Dalfibble Holstein Dispersal Sale
19/03/07
John Mackie's Dalfibble Herd of Pedigree Holsteins was dispersed on the 15th of March 2007 at the Dalfibble Farm.
Glyn Lucas Auctioneer selling from rostrum at Dalfibble Sale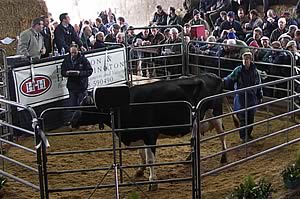 The sale was attended by over 400 people from all over the UK and Ireland. This herd consisted of tremendous commercial type cattle, perfect for large dairy operations. John had used a breeding policy of high production sires, combined latterly with some of the breeds leading type sires, resulting in some very fancy young stock.
The herd was much admired by many dairy producers from Ireland, resulting in over 140 animals being exported across the water to 18 different buyers. Top price of the day went to Cover Girl, Dalfibble Wallace Emblem, a daughter of Etazon Wallace, this winning show cow sold in her 4th lactation with a record of over 13,000 kgs in her last lactation and sold for 2,300gns. Also joining the same herd for 1,700gns is another show winning heifer sired by Cogent Summersby, Dalfibble Summersby Dawn sold in her 2nd lactation, giving 51kgs daily.
Messrs A & I Lamont, Sandieston Fm, Lochwinnoch, Renfrewshire, purchased a daughter of Painley Knightingale, also for 1,700gns this outstanding 2nd calver sold giving 44kgs a day and is projected for almost 11,000kgs.
Dalfibble Sinatra Selina sold for 1,650gns, fresh in her 2nd lactation to Mrs F Awde, Broadmeadows Fm, Melmerby, Penrith, this stylish Sinatra daughter is also joined by 8 other awesome individuals.
John and his wife Jackie would like to thank everyone who attended and supported the sale and wish them all the best with their new purchases.
Averages
149 cows in-milk @ £907.02
52 heifers in-milk @ £922.38
52 in-calf heifers @ £924.61
163 calves & bulling heifers @ £542.65

500 Dalfibble Holsteins to Sell


Customer Service Key to New Semex Appointments


UK Storm Hits Europe