Countdown commences to Skipton pedigree beef season
28/03/07
The countdown is on to the 2007 "Pedigree Beef Season" at Skipton Auction Mart, featuring a series of high profile midweek shows between late April and June, which has become one of the highlights of the northern calendar.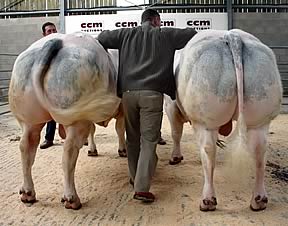 The action begins on April 25 with "Blue Wednesday," the third annual show and sale of pedigree Belgian Blue breeding bulls, cows and heifers. Once again, the fixture is expected to attract top genetics from a number of the north's leading breeders, along with promising young bulls by leading Belgian-bred sires.

The show will target sires that meet the requirements of both pedigree and commercial buyers to generate further interest in the breed's beefing qualities.

Next up on Wednesday, May 9, is "Craven's Limousin Day," a double-header featuring the annual show and sale of pedigree Limousin breeding cattle, with classes for bulls and females. Potential entrants should note that only halter-led animals will qualify for the show, entries for which close on April 23.

Running alongside this event is a special show - no sale - for halter-led pedigree and cross-bred Limousin youngsters. Supported by the North East Limousin Breeders Club, it offers a prize fund of £1,000.

Skipton's "Ling Fields Beef Cattle Fair," the annual multi-breed show and sale of pedigree beef breeding cattle and Spring breeding bull sales, takes place on Wednesday, May 23. Again, there are special classes for bulls and females, plus a halter-led requirement for all entries, which close on May 9. A special Spring pen-judged show and sale of commercial cows and heifers with calves is also scheduled on May 23.

The pedigree season concludes on Wednesday, June 20, with the third annual "Blue Ladies Day," a show and sale of pedigree Belgian Blue females, with a special invitation for pedigree bulls. Entries close on May 23.

To foster additional interest, all shows will run alongside weekly sales of store cattle, young bulls and suckler breeding cattle.

Skipton Auction Mart is also hosting another major beef event on Thursday, May 17, the UK's national beef event, "Beef Expo 2007," organised by the National Beef Association.

A show of top suckled calves and store cattle features a prize fund of £4,000, including £800 for the overall champion and up to £550 for the reserve, depending on class and section placings. The 10 classes include three for Continental steers, three for Continental heifers, two for pure-bred steers and heifers, and two for native bred steers and heifers.

The entry fee is £5 per entry for members of the National Beef Association and £10 for non-members. Closing date for entries is April 17.


New name on Craven Dairy Auction trophy


New Breed UK Introduces Dairy Fertility Programme


Prime performances at Skipton Christmas shows